When comparing roof-mounted solar vs. ground-mounted Solar, both are excellent options. Still, their suitability is dependent on your needs and the existing amenities you must install on your premises.
Over the years, Solar energy has gained immense popularity, and for a good reason. It allows individuals and businesses alike to harness the power of the sun, reduce energy costs, and contribute to a more sustainable future.
However, to install solar panels, one crucial decision must be made: rooftop vs. ground mount solar. Which option is a better choice for your needs and preferences?
While rooftop solar panels make the most of unused space, they're also harder to access for installation and maintenance compared to ground-mounted solar systems, which are much easier to access, with no ladder or safety harness needed.
In this article, we'll dive into the world of rooftop vs. ground-mount solar systems, exploring their costs, benefits, and drawbacks so you can make a decision that can satisfy your needs.
What is ground-mounted solar?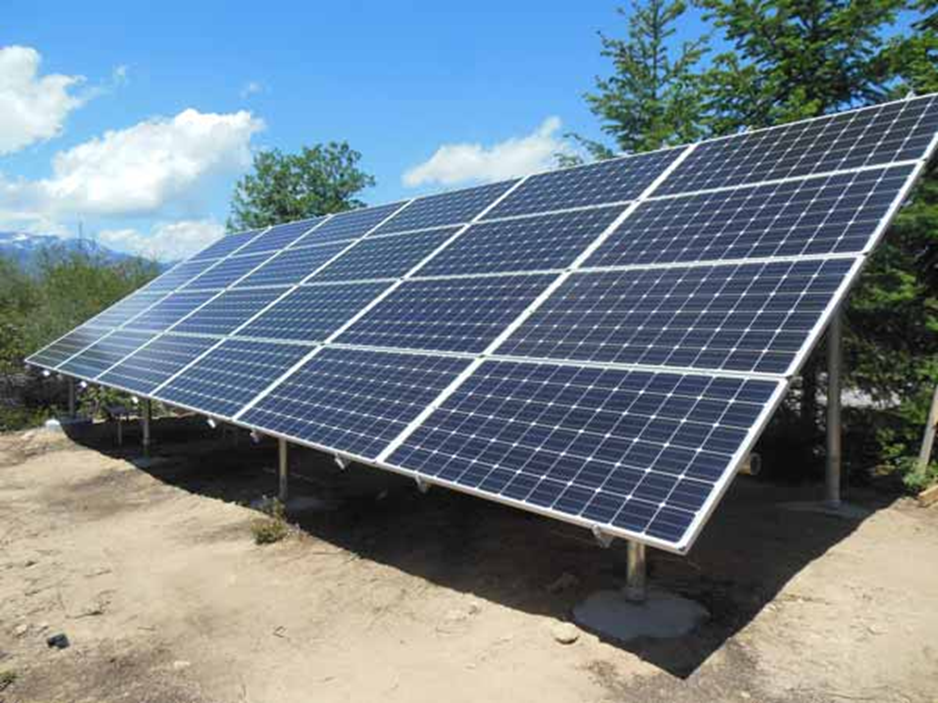 Ground-mounted solar panels are a versatile alternative to rooftop installations. These systems are designed to be directly installed on the ground, using free-standing solar arrays that rest on single poles or metal frames.
Ground-mounted solar panels offer several advantages, making them an attractive choice for many.
What is rooftop mounted solar?
Rooftop solar systems are the most common form of solar panel installation. This type of installation involves mounting solar photovoltaic panels on the roof of a house or commercial building using solar racking, typically made of aluminum.
Roof-Mount vs.Ground-Mount Solar Panels
In many ways, solar is as simple as installing a solar array to start taking advantage of the free energy the sun provides, but when you go for solar, you must consider HOW you prefer going for solar.
Will you go with roof-mounted solar to optimize your space and make the most of the property that you have, or will you opt for ground-mounted solar to take advantage of the positioning freedom that isn't afforded to roof-mounted systems?
No matter the mounting option you decide to go with, there is an abundance of benefits that come from going for solar that are not exclusive to the mount you install; however, you must make an educated decision that is best for the needs of your home or business.
The key difference between rooftop vs ground-mount solar systems lies in their mounting structures.
A standard roof-mount solar panel system uses rails attached to your home's roof to support the solar panels. On the other hand, ground-mount systems require pipes, tubing, or poles to be dug into your soil to hold up the solar panels.
Ground-mounted systems take up more space and require a sizable amount of property available to dedicate towards your panels, but they also offer easy access for installation and repair.
Roof-mounted systems are less expensive as they utilize the existing roof as a foundation for installation. When you use your roof, you eliminate the need to take up precious property space for your solar installation. However, you are limited to the space that you have.
When you install a ground-mounted system, you have the freedom to orient your solar panels in a way that maximizes your energy production, which is only sometimes afforded to roof-mounted systems due to roof obstructions.
Although rooftop solar is popular for both homes and businesses, there are times when rooftop systems could be improved. For a solar system to be supported practically, a roof must fulfill a number of physical requirements.
A roof may not be a practical solar site if it is too small or crowded with skylights, chimneys, or vents. A system might be prevented from losing some of its potential efficiency by other problems, like tree obstruction or unfavorable directional orientations.
Finally, in choosing between rooftop vs. ground mount solar, It is essential to note that some roofs need to be strengthened or fixed, which adds unanticipated costs as against their counterpart, ground mount.
Advantages of Ground Mount Solar System
1. Optimizes Your System's Output
One of the most significant advantages of ground-mount solar panels is that you can position them in the best available location, optimizing your system's energy production.
Facing your panels south maximizes sun exposure throughout the day, while a Southwest orientation can save you money by producing more power during peak electricity rate hours.
2. Accessibility
One of the primary advantages of ground-mounted solar systems is their accessibility.
Unlike rooftop installations, which often require ladders or safety harnesses for maintenance and repairs, ground-mounted systems are easily reachable.
This accessibility simplifies tasks such as cleaning, snow removal, and panel replacement.
3. Increased Air Flow
When it comes to rooftop vs. ground-mount solar panels, ground-mount arrays allow for better airflow around the panels, preventing excessive heat buildup that can reduce energy production.
Cooler temperatures are directly correlated with greater effectiveness. Efficiency and electricity output increase when the panels are kept cool by more excellent airflow underneath.
There is little area for circulation to cool the panels because they are often only a few inches above the surface of a roof. Therefore, ground mounts are more efficient.
4. More Efficient
One can place the ground-mounted solar panels by keeping in mind all the obstructions. An even more significant benefit is that one can adjust its location according to the season. This makes a ground-mounted solar panel 10-45% more efficient than a roof-mounted solar panel.
Disadvantages of Ground Mount
Installation Costs
The installation of a ground mount is typically far more complex and expensive upfront. They are typically more expensive than roof-mount systems due to the need for a separate foundation, additional labor, and equipment costs.
Complex Permitting Process
Ground mount arrays often require a more complex permitting process, which can involve structural drawings, setback requirements, and load-bearing calculations.
Given that the system is a "new structure," your local city or county may have a more decisive say in the installation process. To obtain a building permit, you must visit the authority having jurisdiction (AHJ) in the area where you reside.
Takes Up Valuable Real Estate
Another drawback of ground-mounted Solar is that it occupies a lot of area on your land that may be used for other things; thus, they are better suited for larger properties. You can preserve the area on your land to accomplish anything you want, and a system mounted on your roof will be more covert.
Risk of damage
Ground-mounted solar panel systems are more susceptible to damage due to their accessibility by unwelcome individuals and exposure to the elements.
Advantages of Roof-Mounted Solar
1. Space Efficiency
In considering roof-mount vs. ground-mount solar systems, Roof-mount solar panels make use of your home's existing structure as a foundation, saving space in your yard for other purposes.
With roof-mounted panels, you can utilize all that vacant roof space rather than allowing it to absorb the heat from the sun, which eventually seeps into the building.
2. Lower Installation Costs
By attaching panels to your roof rafters, you eliminate the need for a separate load-bearing foundation, reducing both material and labor costs.
You don't have to create a racking system to house your solar panels, so the upfront cost is typically less than that of a ground-mounted system. Less metal plus less labor equals less costs.
Roof-mounted systems can be both more convenient and more affordable than ground-mounted systems because you're working with a pre-existing structure. This means you won't have to purchase costly materials like poles or concrete, and you won't have to have your soil surveyed before installing.
3. Added Insulation & Protection
As you weigh between the roof-mount vs. ground-mount solar systems, rooftop solar panels offer an unexpected benefit by protecting your roof from degrading elements such as UV light, wind, rain, and snow.
This protection can prolong the lifespan of your roof and provide added insulation, helping to keep your building naturally warmer at night and cooler during the day.
4. Clutter Out of Sight
A solar panel system is not aesthetically appealing. Placing a piece of machinery in the middle of your lawn may make it appear like a mini-industry. When you choose a rooftop solar system, the unappealing panels are out of sight, and everything not so beautiful yet important is on the rooftop.
5. Easier To Permit
A roof-mounted racking system is a perfect fit if you are one of those people who prefer to avoid getting tangled up in bureaucratic procedures.
From a permitting perspective, rooftop systems often involve a more straightforward process. You typically need to demonstrate that your roof is structurally sound and ensure your wiring and electrical systems are up to code.
This streamlined process avoids the complexities associated with ground-mounted systems, which may be considered new structures by local authorities.
Disadvantages of Roof-Mounted Solar
Imperfect Orientation and Less Efficient
Achieving the perfect panel orientation on a rooftop can take time and effort, limiting energy production potential. Roof-mounted systems are less efficient than ground-mounted systems.
It's unlikely that you'll get the "perfect" orientation for your system. Since you can't change the direction of your house, your choices are limited by the space available on your roof.
Rooftop solar panels can only sometimes be directed at the sun. It is far more difficult to position an array on an existing building so that peak power consumption is maximized.
You can only occasionally obtain the panels pointing true south (above the equator) or north (below the equator) because of the built-in specifications of your roof.
You might also have to buy a couple of extra panels as compensation to match the output of a correctly aligned ground-mount system.
Limited Roof Space
The size of the solar array is restricted to available roof space. Not all roofs have enough space to accommodate a solar system, potentially necessitating a smaller array or a ground mount system.
Depending on the size or shape of your roof and the placement of things like vents, air conditioning units, and fire line setbacks, the space on your roof may be limited.
Therefore, as stated earlier, you may need to compromise with a smaller array or plan for a ground mount system (if feasible) to meet your energy needs fully.
Less Accessible
While rooftop solar panels make the most of unused space, they're also harder to access for installation and maintenance.
You might want to think about the accessibility of your roof depending on your mobility and anticipated level of engagement in the installation procedure.
Depending on your roof's pitch and the type of material used, you'll need the proper safety equipment to complete the installation or conduct maintenance.
Potential for Roof Leaks
Roof-mounted systems involve drilling holes into your roof, posing a risk of roof leaks if not properly installed.
Factors to consider when Choosing Ground Mount or Roof Mount Solar Panels
When deciding between rooftop vs. ground-mounted solar panels, several critical factors should guide your choice:
1. Available Rooftop Space
Assess the available space on your property, both on the roof and on the ground. Consider your property's size and layout when determining which option is more suitable.
2. Roof Condition
Evaluate the condition of your roof and any potential obstructions like skylights or vents. A rooftop installation may not be feasible if your roof is too small or congested.
3. Orientation and Tilt
Consider the orientation and tilt of your rooftop. Rooftop panels must be angled to capture the most sunlight, which can be challenging on some roofs.
4. Amount of Free Space
Assess the available space on your property, both on the roof and on the ground. Consider your property's size and layout when determining which option is more suitable.
5. Shading
Assess whether there are any obstructions, such as trees or nearby buildings, that could cast shadows on your solar panels and reduce energy production.
6. Structural Capability to Support the Array
Determine whether your roof or the ground can support the weight and infrastructure of the solar panel system you plan to install.
Conclusion
When it comes to rooftop vs. ground-mount solar panels, there's no one-size-fits-all answer. Both options offer benefits, and the choice depends on your specific goals and priorities for your solar panel system.
Assess your property, your energy goals, and your budget to determine which option aligns best with your needs. Whether you opt for a rooftop or ground-mounted installation, you'll enjoy reduced utility bills, a smaller carbon footprint, and increased energy independence.
Thank you for reading through the article, we hope it was helpful?