It's easy to update your living room decor for less than $1,000. A major transformation can be achieved without significantly impacting your budget by making small changes to the color scheme, ornamental elements, or furniture arrangement.
The living room is one of the most frequently used spaces in the house, so it must appear attractive and durable enough to withstand everyday activity.
It may seem pricey to design a habitable room, especially one below $1000. The trick is to find unique and affordable living room decor ideas that still deliver on style.
Although finding the fitting living room décor idea for your apartment can be challenging, compact living has several benefits. An adequately decorated living room with the right furnishings and decor, a small living room may feel just as cozy as a larger one.
If you are trimming an apartment on a budget, you need not settle for cheap chic. This blog post offers design tricks to make your space look expensive without breaking the bank.
LIVING ROOM DÉCOR IDEAS UNDER $1000 BUDGET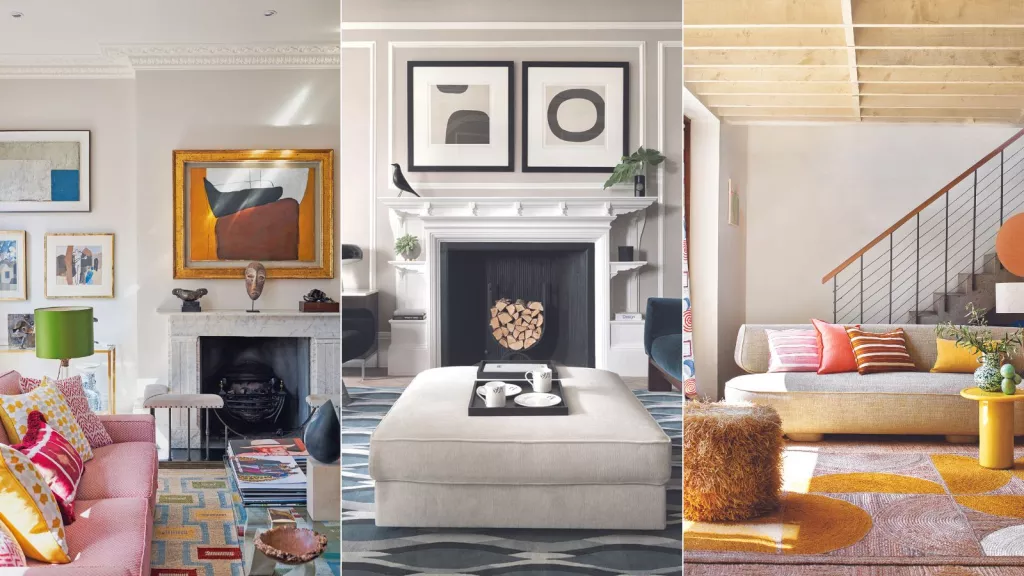 Everyone wants a super stylish lounge to relax and socialize in, but decorating a living room on a budget is often an essential rule to stick to.
It's only sometimes necessary for interior modifications to be elaborate affairs; if you are looking for a budget apartment living room decor idea, remember that the most simple and beautiful views are sometimes the most effective.
Below are some living room décor ideas under $1000 to give your room that comfortable and sophisticated look.
1. CHOOSE NATURAL ELEMENTS AS LIVING ROOM DECOR
Plants are an inexpensive yet elegant way to add interest to a space. With a few well-chosen plants, you can quickly give your cramped apartment living room a sense of renewal and freshness.
Plants add a sculptural element to a space, and you can frequently find low-maintenance varieties for affordable prices.
Look for exciting leaf shapes or colorful foliage to give extra life to your living room. You can start by putting a potted plant in the center of your coffee table or adding a hanging plant to a vacant space in your home.
If there isn't enough natural light in your living area, or needs more confidence in your plant-care skills, go for realistic-looking faux plants instead.
Natural grasses or dried stems can also be a cheap living room décor idea. To make a simple natural arrangement, place some in a vase. You may gather some from your backyard for free living room décor or buy the faux version at a craft store.
2. BE CREATIVE IN YOUR PAINTING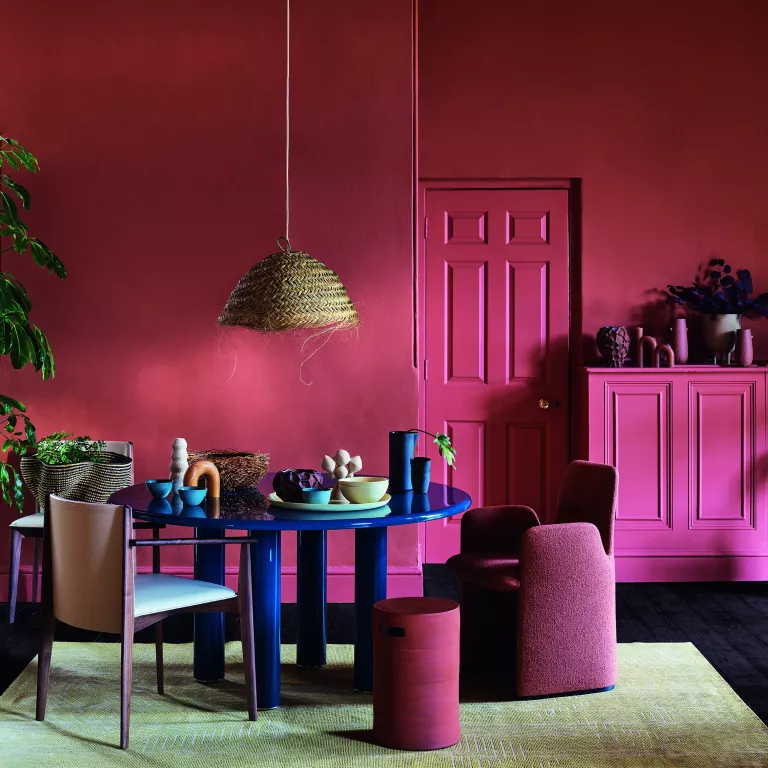 Paint is a perfect living room décor idea to transform a space quickly and easily. It adds personality and character to create an inspired interior. Creative paint ideas and tricks can bring unique beauty to a home; the more inventive they are, the better.
3. PERSONALIZE LIVING ROOM DECOR
Including things that reflect your hobbies, travels, and priceless memories are fine living room décor ideas that can make your living room feel extra special.
Displaying ancestral portraits, framed genealogical charts, maps representing your favorite places, family photo collages, and hanging letters or signage referencing your initials or a familial surname are unique living room decor ideas to keep your living room decorating on a budget.
4. MAKE USE OF HEART-SHAPED METAL GRID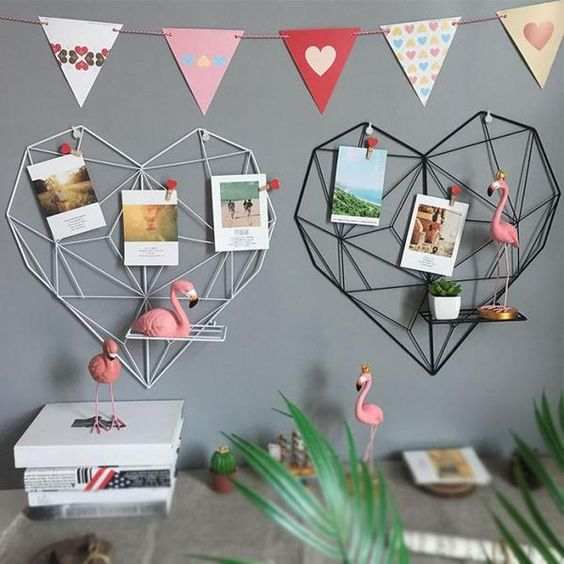 The heart-shaped metal grid is a simple but sleek living room décor idea. Although metal grids come in rectangular and square shapes, the heart-shaped metal grid appears more stylish and decorative.
You can decorate it in your own way. For instance, you can add fairy lights to it or small Polaroid pictures with wooden clips.
5. REARRANGE THE FURNITURE LAYOUT FOR FREE
For a no-cost living room décor idea, consider rearranging the furnishings in your living room. It's incredible how simply moving the furniture around changes the feel of your living room.
Give your living room an affordable refresh while working with what you already have. You can remove room items that don't belong, organize the space, and eliminate clutter.
Also, consider some furniture rearrangements to overhaul your living room without spending a dime. To move furniture about until you have an aesthetically acceptable layout, enlist the assistance of a friend or member of your family. Set up groups of couches and chairs to encourage conversation.
6. UPDATE YOUR CABINETRY WITH A FRESH SHADE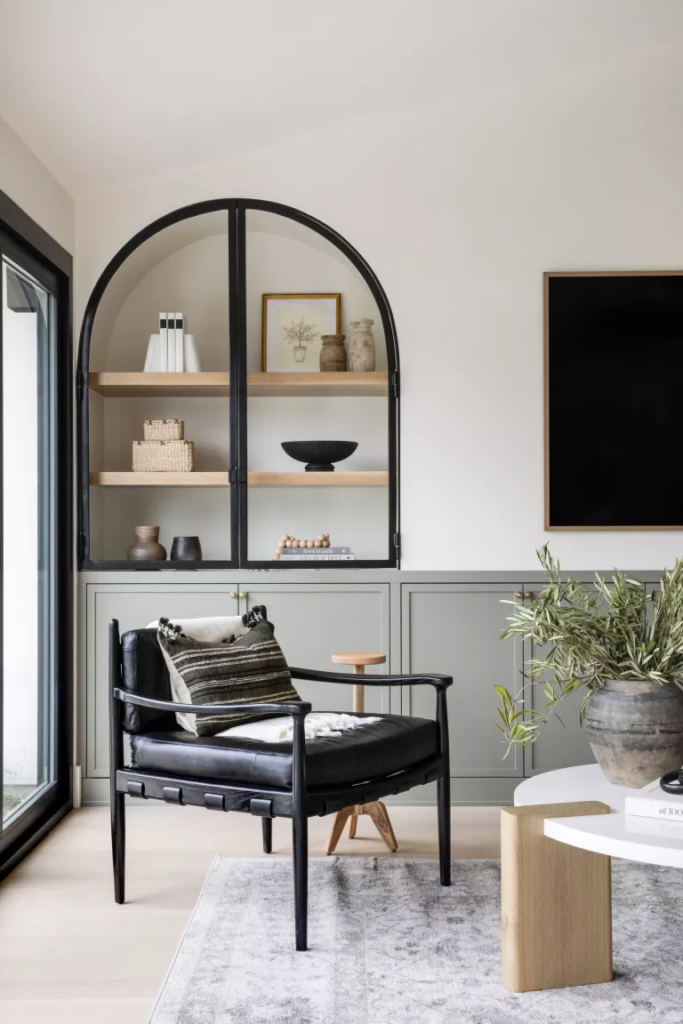 Painting is the best type of DIY because it completely transforms the appearance of your home, and you don't get much cheaper than a tin of paint.
Adding color to living room furniture with color is a fast and easy way to add style and personality to a budget apartment living room.
Painting your living room cabinetry is one quick living room décor idea to revamp the room. Painting the built-in cabinets with a beautiful shade of color and injecting the space with another calming color adds more visual interest.
7. UNUSUAL LIGHTING ITEMS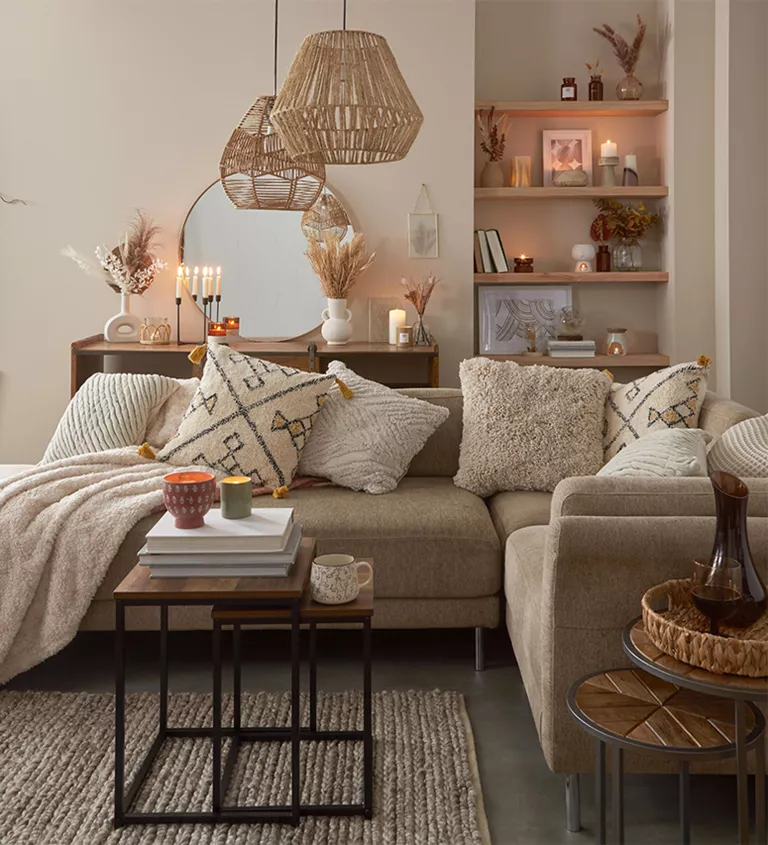 Fancy and uncommon lighting has a way of enhancing the look of a room. You can find them in many different shapes and sizes at affordable prices. Light enhances a room's ambiance, making it feel more homely and giving it a personalized flare.
Also, with savings in mind, if you have a lamp with an excellent base, you could change the shade or create your own using a fabric of your choice. Even switching out lightbulbs from cool white to warm white will change the atmosphere of a living room.
8. EMBELLISH LIVING ROOM ACCESSORIES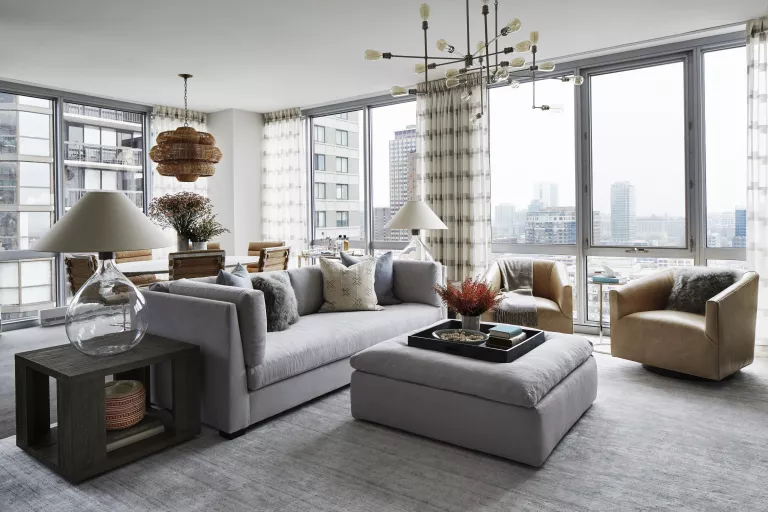 For a cheap living room décor idea, minor upgrades can give budget-friendly throw cushions, pre-made window treatments, fabric lampshades, etc., a more fashionable, personalized appeal.
Add fun decorator trims, contrasting fabric bands, vintage buttons, playful tassels, and fringe for fresh and colorful food.
9. CREATE STYLISH DISPLAY AREAS
If you love having beautiful pieces such as artisan-made ceramics, creating simple yet stylish display areas in an alcove or mantlepiece will instantly and affordably update your budget apartment living room.
Interior decorators always position items in odd numbers because they are aesthetically more appealing and ensure they vary in height and textures for added interest.
10. REPURPOSE VINTAGE OR THRIFTED DECOR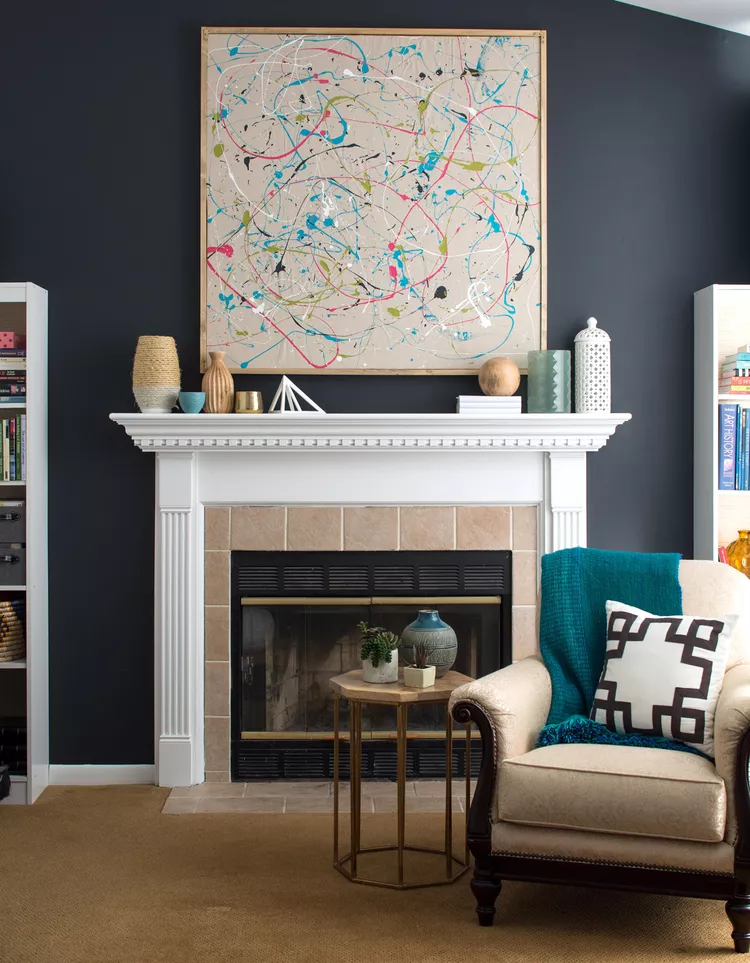 To create valuable furnishings with a vintage flair, think about repurposing materials inventively. For instance, you could use an antique ladder to store and display throw blankets, a vintage trunk to house board games or serve as seating, and wicker laundry baskets to store periodicals or unfinished crafts.
You could also cut down the legs of a farm table to create a rustic coffee table. Refine your sewing and upholstery skills to add new upholstery to vintage furniture or slipcovers.
11. CREATE DIY LIVING ROOM ART
Paint your DIY canvas art for an affordable living room decor idea. Buy blank canvases you can paint and place prominently above a mantel or sofa.
Use paints in your favorite hues, randomly brush on fantastic geometric shapes, or splatter colors for contemporary composition.
If you prefer less abstract art, use the canvases as bases for painted images, stenciled motifs, or collages created from crafting remnants.
12. ADD A NATURAL WOOD SHELF
Decorating shelves is a simple living room décor idea to add space to a budget apartment. It works exceptionally well for living rooms of mostly small apartments that might not be large enough for a side table.
Apart from functionality, the wood shelf can be a creative place for ornamental items that add flair and nuance but can also be readily replaced throughout the year so that your living space always feels fresh and new.
13. UPDATE WITH THROW PILLOWS AND CUSHIONS
Updating your living room with throw pillows or cushions is one of the most straightforward living room décor ideas that wouldn't cost you so much.
New cushions and throws can transform the appearance of your living room, and again you don't have to spend a fortune. Or maybe, you can consider adding embellishments to pillows you already have.
You can go for trims or tassels that are not expensive to give a unique touch to your cushions or add a bobbing edge to a throw in a contrasting color.
14. WRAP FAUX FURS AROUND THE SOFA.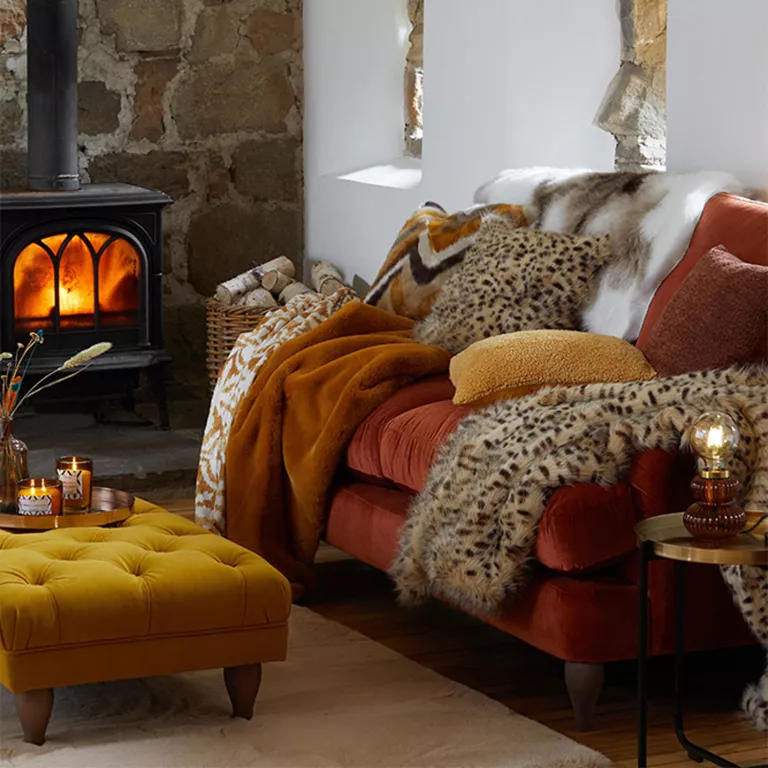 Covering up the sofa with faux furs is a simple and inexpensive living room décor idea to fix. A worn-out or ugly sofa may spoil the atmosphere in any living area.
A couch might seem expensive if you take the time to design it well, but getting a few new throws or fleeces for the sofa will cost less than replacing it or purchasing new loose covers.
Layering the sofa with various throws and cushions in complementary tones and patterns can give it a more finished appearance. Your primary throw should be either in the center or somewhat off-center. Fold it neatly, smooth it up, then tuck it beneath the sofa to secure it.
FINAL THOUGHTS
Adding a few inexpensive elements or small touches, even to the things you already own, can help you decorate your living room on a budget while still making it appear stylish. This will help you build a cozy, equally aesthetically beautiful, and livable house.