Light and bright colours such as yellows, pale blues, whites, teals, greens, and blush pink are colours to make a room look bigger and brighter. These colours also help to lift moods and energy around the home.
Colour psychology is a scientifically studied field that explores the impact of colors on human emotions and perceptions.
Your home is where you return to unwind, connect, and just be you. Personal touches, beautiful decor, light furnishings, and other thoughtful details can redefine the look of a room. Despite these extra additions, your room may feel small and claustrophobic.
However, research has shown that there are specific paint colors to make a room bigger and brighter. Color uniquely transforms any room; Any room can be changed by color, and by making the right choice, you can create the perfect atmosphere for your space.
Here's a list of colors to make a room bigger and open.
WHAT COLOUR MAKES A ROOM BIGGER AND BRIGHTER
The appropriate color choice may clearly distinguish between a welcoming environment and a cluttered or uninviting atmosphere in a tiny room.
Room colors can also significantly affect how big or small a room will look and feel, either through a visual trick (like a bright, glossy white that can reflect natural light) or a psychological trick (like a cheery, upbeat yellow that can counteract the claustrophobic nature of a cramped space).
While it's a common misconception that all small spaces should be painted white, confident, bright, and striking choices might assist your small room ideas in giving the impression of more space and making your tiny house look beautiful.
1. OFF-WHITE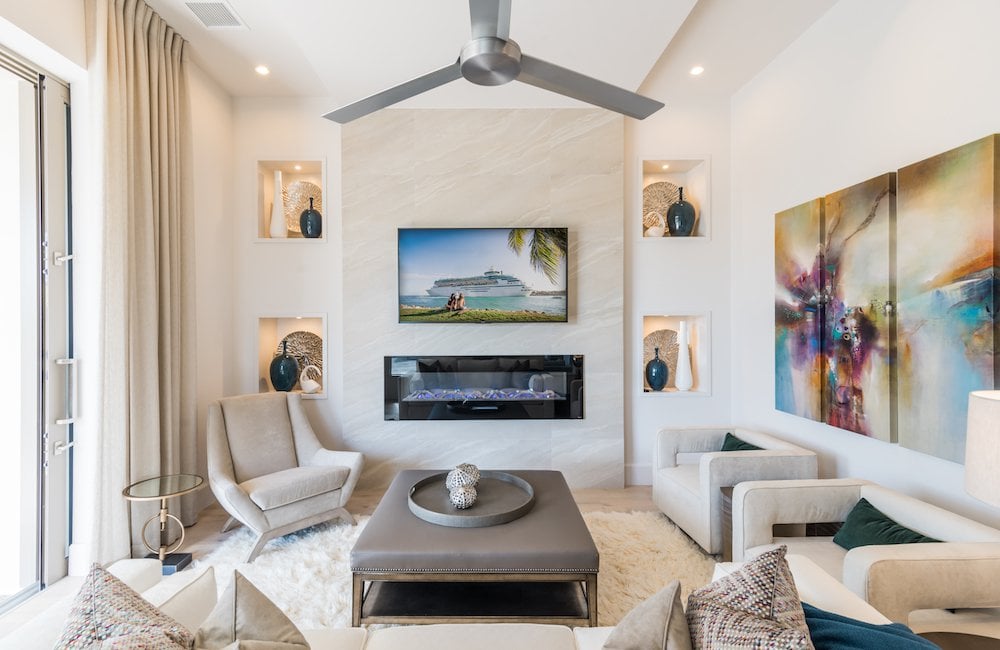 The Off-white paint is a simple and clean color to make a room bigger. It is easier to work with and makes a room more inviting. It works well in spaces where you generally want to relax or have fun, like living rooms, since they look more attractive with an off-white color scheme.
2. TAUPE
Taupe is a light, excellent color that improves the mood of a space while adding a splash of color.
A taupe-colored wall is a brilliant solution for small rooms, as it falls in the lighter end of the color scheme and offers a better and more colorful solution to tans and whites, which are the most used color options when trying to make a small room look bigger.
3. SEA GREEN
Sea Green is a popular color to make a room bigger with a simple feel added to it. It goes incredibly well with wooden furniture and accents, creating a lovely atmosphere in the space for people to relax.
If you accessorize with more earthy hues and textures, you'll see how quickly the color can breathe new life into a room.
4. BLUSH PINK
One of the most common colors to make a room bigger is blush pink. Paint the walls in a delicate shade of pink to make the most of the natural light and space in a room that benefits from the late afternoon and early evening sun. Blush pink provides a pleasant, warm, and cozy atmosphere.
5. GREY
Choosing Lighter grey walls and painting your floorings with a darker shade will give your room a calm and sophisticated tone, especially in a bedroom.
Choose a shade with some brightness; the light will bounce off it beautifully, making your small room bright and breezy.
Also, when pairing the walls with your furniture, picking a light grey fabric for your sofa will create a unified appearance that enhances the space in your living room.
6. CRISP WHITE
The most obvious choice of color to make a room look bigger is white. Choosing a bright, neutral shade like white in your home decor enhances the reflection of the light and encourages the illusion of space.
For compact spaces, you can opt for crisp or brilliant white tones that give the room a fresh and calming ambiance.
To avoid feeling too clinical, however, you can include warm or bright colors in the furniture, accessories, or even lush green plants to add a pop of color.
Moreover, white is better when paired with darker wooden flooring or a beautiful rug. Typically, eggshell or satin finishes also help to reflect light, creating the illusion of even more space. It's also perfect for keeping your office space bright and uplifting.
7. PALE BLUE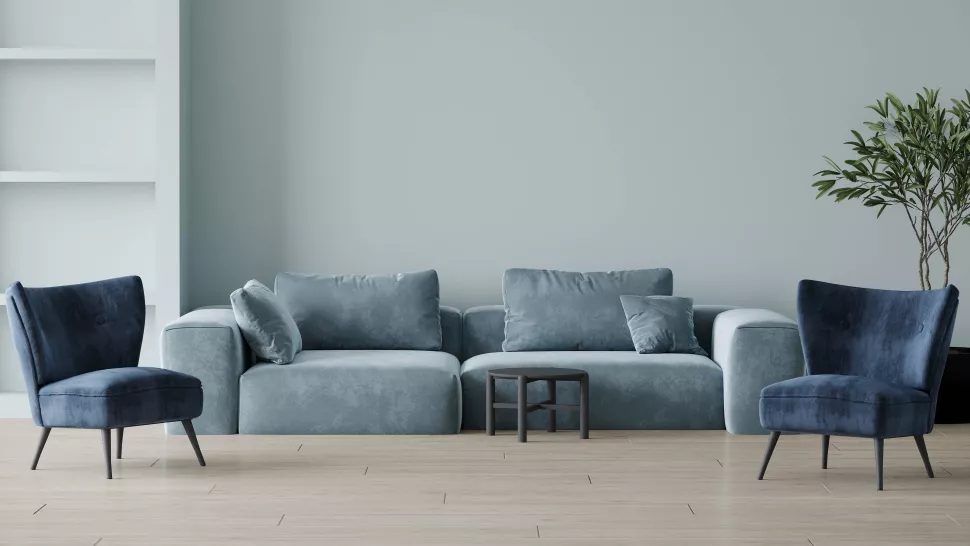 Blue remains one of the choicest when looking for a color to make a room bigger. It gives a calm ambiance and provides a soothing and relaxing feel.
When combined with other lighter colors, such as white or blush pink, pale blue shades are reminiscent of blue skies and ocean sprays! Living rooms, playrooms, kitchens, and bathrooms benefit from the airy feel of pale blue.
Experts advise combining light blue hues with white, cream, or warm, earthy shades like terracotta to make a statement. This color also has metallic or chrome accents for a streamlined finish.
8. SOFT YELLOW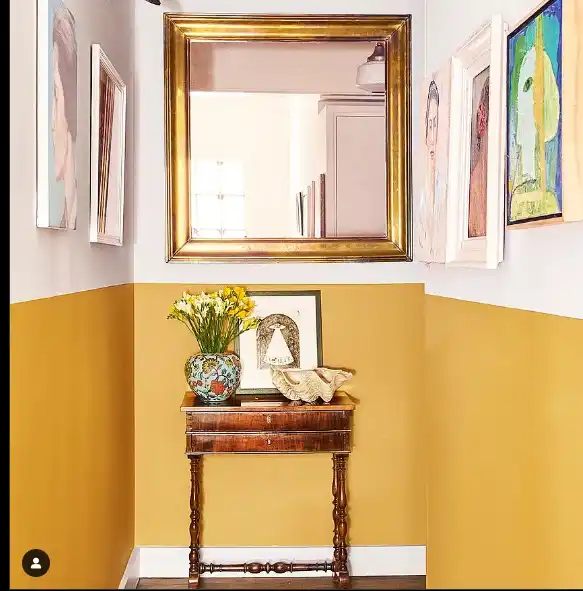 Using yellow in a small room is a perfect color to make a room bigger. It has both a psychological impact as well as a visual one. A brilliant buttercup yellow is so cheerful and uplifting that it softens small rooms' overwhelming or claustrophobic nature.
Several innovative paint techniques can be used in this situation as well. Painting the ceiling in the same color makes the room look bigger, draws the eye up, and makes the top look higher than it is – making the whole room appear bigger and calmer.
Painting the ceiling the same color to make a room bigger is another trick. It draws the eye up and makes the roof look higher than it is – making the whole room appear bigger and calmer.
9. RICH TEALS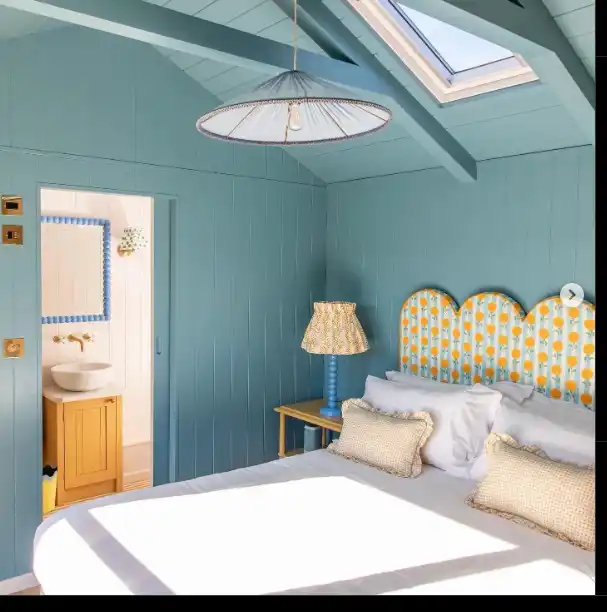 A flat wall color that remains unchanged in the sun will only help a little with confined areas. In natural light, a color with many rich undertones, such as teal, dances, adjusting its temperature as the day progresses. This color is perfect for cloakrooms or extra bedrooms because it livens up.
Adding an extra band of white color to make a room bigger and taller is another design strategy. Painting your walls to a point just below the ceiling is a terrific method to heighten a space.
Another tip is to paint your walls the color you choose to about 10 cm below the top or until the bottom of the cornice, and then paint everything above that brilliant white.
10. GREIGE
As its name implies, greige is a neutral color between grey and beige. It is technically a light and bright shade that gives a timeless, warm feel and naturally adds and bounces light rays.
11. NATURAL GREEN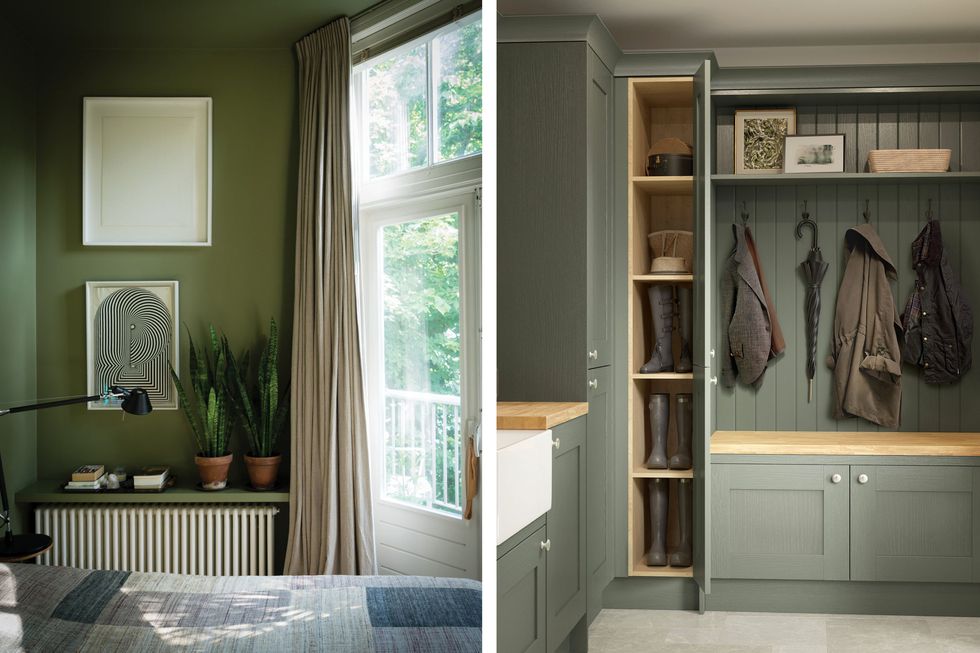 Using a natural, mossy green color to make a room bigger is an intelligent design tip for any room that looks out onto a garden or other green space. It also makes the room appear longer inside due to the blurring of the lines separating the interior from the outside.
12. SOFT BLACK
Contrary to the general knowledge that painting walls black will make a room look small, going for a moody dark-colored interior design palette creates a perception of depth, disguising that your room is smaller than average.
Additionally, soft black paint gives a space an enormous, artistic sense ideal for a living room.
13. NAVY BLUE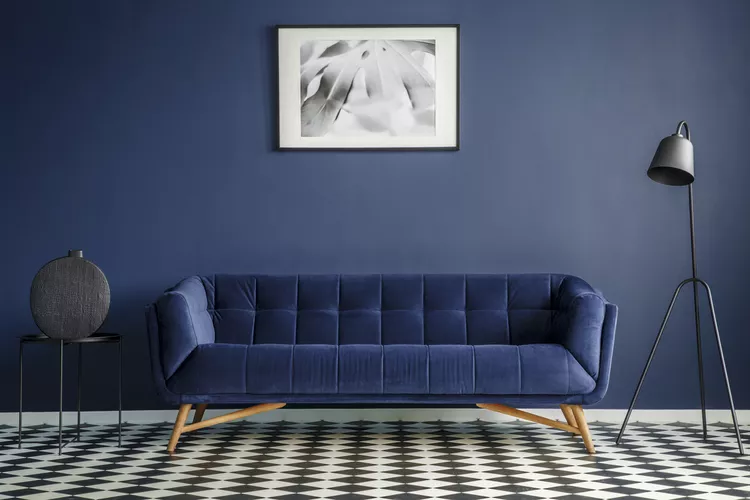 In rooms with a little bit of natural light, a deep navy blue is an ideal color to make a room bigger, creating an illusion of depth and making a space feel dramatic and stately.
Maintaining significant pieces of furniture, such as sofas, in the same color as your walls when you paint them navy will also help to soften the borders of the area and make it appear larger. Because of this, it's also a fantastic option for spaces with cabinets, like kitchens and libraries.
PAINTING TECHNIQUES THAT CAN BE USED TO MAKE A ROOM LOOK BIGGER
Making the ceiling the same color as the walls will draw attention and make the top appear higher than it is, giving the impression that the room is larger overall.
Paint the woodwork and any decorative moldings a shade darker than the wall color. This makes the room's structural foundations more prominent and allows the walls to recede slightly.
Another tip is to paint your walls the color you choose to about 10 cm below the ceiling or until the bottom of the cornice, and then paint everything above that brilliant white. The additional white border will give the impression that the room is taller.
Consider a tonal strategy for the entire space. Selecting your sofa and other pieces of furniture and fabric in various tones of the same color can help them integrate smoothly and create a clean room that appears more significant than it is. Green hues that are calming are a fantastic choice. Once you've decided on your paint colors and home furnishings, try hanging big mirrors on the walls to give the impression of more space.
FINAL THOUGHTS
There are several paint colors to make a room bigger and feel more pleasant. A simple design strategy and a well-chosen color palette may make the most of even the smallest rooms.
The appropriate color choice gives the impression that a space is more extensive, increasing its visual impact and making a massive difference in how a room is viewed.