When building a new home, asking the right questions is essential. To cover your bases, inquire about the builder's experience and credentials. Seek clarity on the timeline and budget, Remember to ask about potential hidden costs or extra fees that may arise during construction.
Building a new home is an exciting experience. It puts you in the designer's chair and allows you to customize a home to meet your needs and tastes.
However, to ensure that your dream home becomes a reality without surprises, hiring someone qualified with the craftsmanship to convert your ideas into a dream home is crucial.
Most importantly, you should know the right questions to ask when building a home. In this comprehensive guide, we'll walk you through 30 questions to ask when building a home, covering every aspect from start to finish.
Whether you're a first-time home builder or a seasoned pro, these questions will help you make informed decisions, avoid red flags, and ensure the efficiency of your new home.
30 Questions To Ask When Building A Home
1. What's Included In The Cost Of Building A House?
If you're thinking of building a home in a master-planned community, this might be the most important of all questions to ask when building a home.
You'll see a base cost when you initially get a new construction quote. If this number looks too good to be true, it might be because it is. That's because some builders only present the price of the structure itself when marketing a planned community that's under construction.
To be sure you're getting the whole picture, ask if the cost of the lot is factored into the base price.
2. Are There Hidden Costs In Home Building?
Service fees are sums you must pay to the township before construction may start. Some of these expenses are permits for construction, sewer taps, and water taps. It is only possible to start building if those services are available.
Since different builders will have other policies regarding what fees are included in the project and what fees aren't, you should ask the builder about any hidden costs.
Hidden expenses are costs for services the builder offers that are included in other costs.
3. How Long Does New Construction Home Building Take?
A builder's reputation relies on projects staying on time and on track, but there is always a chance that circumstances (like material delays) will delay the process.
According to 2019 U.S. Census Bureau report, it takes, on average, about seven months to build a house from scratch.
Be sure to include this as one of the questions to ask when building a home. Ask if the estimated build time consists of the time it takes to get the building authorisation and permits.
4. How Much Can I Customize The Design Of My New Construction Home?
Some people prefer new home construction because you can make it your own by choosing the type of flooring, exterior siding, interior paint colours, and more.
However, your options won't be limitless, so be prepared to compromise your "must-have" list. Each upgrade will add up, which might be why the base cost was so attractive: builders make an excellent bank on the upgrades.
Ensure you know which finishes are standard and what might be considered an upgrade before you start. Then, decide where you'd like to splurge and where you'd like to save.
5. What About Appliances?
The kitchen and laundry rooms are usually the most challenging areas in a home, so choosing appliances that suit your lifestyle and design aesthetic is essential.
Don't assume that your contract will include what you may consider "essential" appliances. And don't be surprised if your builder's appliance choice doesn't meet your standards.
Many new construction homes offer what's commonly known as "builder-grade" appliances, which means basic materials and somewhat lower quality.
There's a good chance everything in your contract will be builder-grade, even if the model home features top-of-the-line appliances.
Be bold and ask about dishwashers, washers, dryers, and even kitchen faucets with sprayers. They may not even be on the list of appliances offered, and your builder may not be contractually obligated to provide them.
6. When And How Can I Make Modifications Or Upgrades?
Builders often use a "buyer selection period" where you can discuss and plan all the features you want in your new home. Once these selections are locked in, they often cannot be changed or can only be done at a substantial cost. Ensure you understand this selection period and when your final choices are due.
7. What Upgrades And Options Are Available?
You want to be aware of your upgrade possibilities just like you would with standard features. Your builder can assist you in determining whether you can enhance your master bedroom to have a double sink, give your guest room an ensuite, upgrade or downgrade your kitchen appliances, or select hardwood floors.
8. What Sort Of New Home Warranty Do You Offer?
Many people lean towards a new construction home and think it won't have the problems you'd expect to come with a previously owned home since it's brand new. Not so fast. Just because it's a newly built house doesn't mean problems won't appear.
On the list of questions to ask when building a home is to know what warranties are included in your contract and how long they last.
Most builders will provide a limited warranty, generally good for a year or two of labour, materials, and system defects. Make sure you purchase a home warranty if the builder doesn't offer one with your purchase agreement!
9. Is Landscaping Included?
Depending on the size of your yard, sodding and putting in trees and plants can easily cost tens of thousands of dollars or more.
While some home builders take care of your essential yard work, others provide you with unfinished land and your obligation for the landscaping. Verify what is included in the base price and what the warranty covers.
10. How Do I Prevent Cost Creep?
The best way to take the stress of unanticipated costs is to work with a builder who doesn't include a "cost escalation" clause in their contract.
Cost-escalations are contract provisions that shift the client's responsibility for rising labour and material expenses from the contractor to the client.
It allows the builder to market the properties at a lower price, and If costs increase, the total job price will also increase by the same amount.
11. What Is The Energy-Saving Feature Of The Home?
This certainly should be on the list of questions to ask when building a home. One great advantage of new construction is the energy efficiency of modern design and building materials.
More efficiency means lower costs over the long term but usually higher costs upfront. Try asking your builder where their home falls on the Home Energy Rating System (HERS) index to gain more insight into how their homes typically measure up.
12. What Are The Processes For Inspections Throughout Construction?
One of the questions to ask When building a home should be about the inspection process. Builder Inspections should be done in multiple phases, and you should hire an independent inspector your agent recommends.
At a minimum, the first inspection should be done before the walls are closed to inspect the framing and systems installation. The second should be after the home is complete so the inspector can check the finished product.
13. Are There Any Homeowner Rules Or Regulations?
Some developments have homeowners' associations (HOA) that can restrict your use of the property. This could only allow specific paint colours for the exterior or limit the height of a privacy fence.
The builder may also set some guidelines regarding what's allowed and what's not on your property, even if there is no HOA. Be sure to include this among your list of questions to ask when building a home so you aren't burned by these restrictive covenants later.
14. Are There Any Financial Benefits To Working With The Builder's Preferred Lender?/Agent?
Some builders offer discounts or credits for working with certain preferred vendors. It doesn't mean these are always the best deals, but it's worth asking the question.
15. Who Else Does Your Contractor Work With?
Another question to ask when building a home is, who else does your contractor work with? Most builders tend to subcontract other companies at different stages of the project. Knowing who your contractor will work with and whether they are accredited is essential.
16. Preferred Means Of Communication
Whether or not there might be a project manager to make communication more accessible, it's advisable to agree on a specific method of communication. Is it via email, WhatsApp, or phone calls?
Whatever you agree on, it is ideal to have more face-to-face conversations regarding the project. Considering you can't go to the site every day, you should agree with your contractor when to make a site visit so that they can brief you on the project's progress.
17. Questions About End-Of-Day Clean-Up Plan
How does the contractor plan on managing waste at the site? Your contractor should have a clear plan outlined on how they plan to manage the trash at the site and ensure that they leave a clean working area.
It would be best if you made it clear that they should do the clean-up at the end of the day. Otherwise, you'll be left with the task to do it yourself.
18. Questions About Builder Insurance
Being insured shows that the contractor has your best interest in mind. Instead of leaving everything to chance, getting insurance is ideal since you never know what can happen during the project.
Your contractor should have public liability insurance, employers' liability insurance, and contract work insurance. This will only show that they are indeed serious about their work. It would be best if you asked to see the insurance certificates they have.
19. What Planning Applications Will I Need For My Project?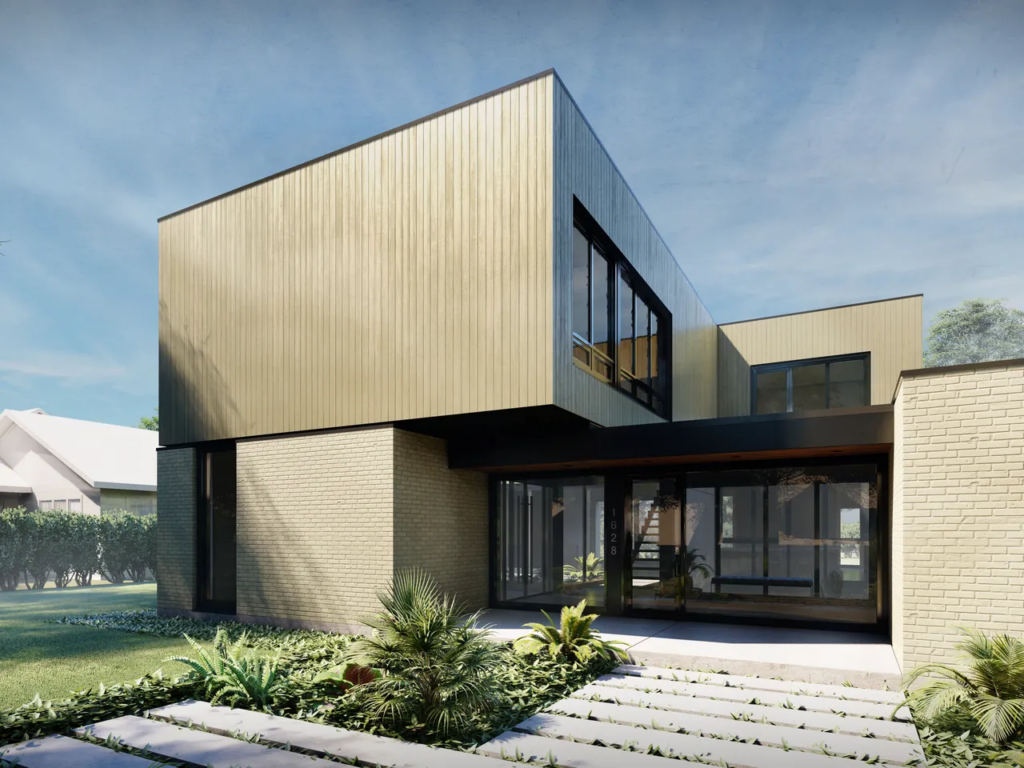 Knowing about the documents needed for your building process is of course among the essential questions to ask when building a home.
A qualified and experienced builder should know the legal documents needed before commencing the project. Will you need any planning permission or a Party Wall agreement?
Are they well conversant with the building regulations and the Health and Safety requirements? Being up-to-date with such will help avoid issues with the local authorities while the project is in progress.
20. What Happens If The Project Scope Changes?
A change in the project scope could lead to an increase in the budgeted amount. Your contractor should specify what's meant to happen if there's a change or any delays in some of the tasks that need to be undertaken.
Is their cost fixed and all-inclusive, or do they allow for revisions? The contractor should specify this in writing to avoid complications or disappointments if something goes differently.
21. Ask Questions About The Builder's Experience
This is a crucial question to ask when building a house because it will help you determine how skilled your builder is and whether they have the skills and expertise necessary to maintain their business with satisfied consumers and, in turn, transform you into one of them.
22. Questions About How Many Homes Of This Style Your Builder Has Built
Knowing if your builder has constructed a home in the design you like is essential. If you're searching for a duplex, you might want to go with something other than a builder who primarily specializes in bungalows or infills.
Ensure your builder has extensive experience in various home building types or specializes in the design you want.
23. How Do You Ensure The Building Stays On Budget And On Time?
Some companies might have connections to keep expenses down, while others might excel at adhering to timetables and budgets. Asking your builder about their methods for staying on schedule and within budget will help you understand how they manage their day-to-day operations.
24. How Are Complications Handled?
There will virtually always be difficulties, much like anything else in life. This inquiry will help you gauge how forthcoming and truthful your builder will be with you and how adeptly they will navigate challenging circumstances.
25. Do I Need Homeowners Insurance While My Home Is Being Built?
Before finalizing your construction plans, you should consult an insurance representative. This ensures your home's location or specifics do not generate an insurance issue. For instance, building in a flood zone can result in higher premiums.
Moving in the long run can be more cost-effective if you have the chance to do so before your insurance rates increase.
26. What About Taxes?
Doing your research and asking questions about your property tax is paramount. Your home's assessed value from the prior year is what you pay in property taxes. This is because they are assessed annually and are due the following year.
You might not have to pay property taxes on the value of your new home for a year (or longer), depending on what time of year it is finished.
27. What Kinds Of Loans Are Available For A New Home Construction?
If you want to take a loan for your new build, researching and knowing what type of loan favors you is one of the most important questions to ask when building a home.
Construction-to-permanent and construction-only loans are the two categories of new house construction loans. Construction-to-permanent loans pay for your home's construction in stages as it is being built, whereas construction-only loans pay for your home's development entirely upfront.
You can get financing for new home building no matter how you choose to make your house.
28. Ask Your Builder For References Or Testimonials From Previous Home Buyers.
Verifying claims with independent sources is acceptable when investing. Therefore, homeowners should ensure to include this in their list of questions to ask when building a home.
Similar to a job interview, a strong reference can be beneficial. A professional builder will have a list of references from satisfied clients and be able to guide you toward what you need to feel comfortable dealing with them.
Ask the previous buyer about the building process, issues they ran into, and things they would have done differently now that they've been through it themselves.
29. Questions About Where The Builder's Show Homes Are Located?
Seeing a builder's work to give you the best idea of their capabilities is different. Visit a builder's show homes to see examples of their work; if they don't have any, ask them to schedule an appointment for you to see a prior client's home instead.
30. Will You Receive Credit If You Bring Your Supplies Or Equipment?
Most builders work off allowances and credits. This means you have up to a certain amount for each fixture and feature. Go over that set amount, and you need to cover the difference. Go under that amount – usually, that's too bad for you.
However, if you bring in outside materials or appliances, see if the builder can give you credit for these expenses off the total purchase price.
Conclusion
Building your ideal home is a thrilling endeavor, but not without difficulties. However, by asking the right questions at every step of the process, you can ensure that your homebuilding journey is successful.
So, when you embark on this journey, remember the necessary questions to ask when building a home and use this guide to steer you in the right direction. Your dream home awaits!