Small kitchens can be a challenge to work with, but with some creative thinking and practical solutions such as utilizing lighting and neutral colors, folding kitchen cabinets, and making use of wall space, you can maximize every inch of space available.
We all desire a sizable kitchen with a walk-in pantry, room to tuck away all of our appliances, storage for seasonal décor, and other amenities because the kitchen is the center of the house.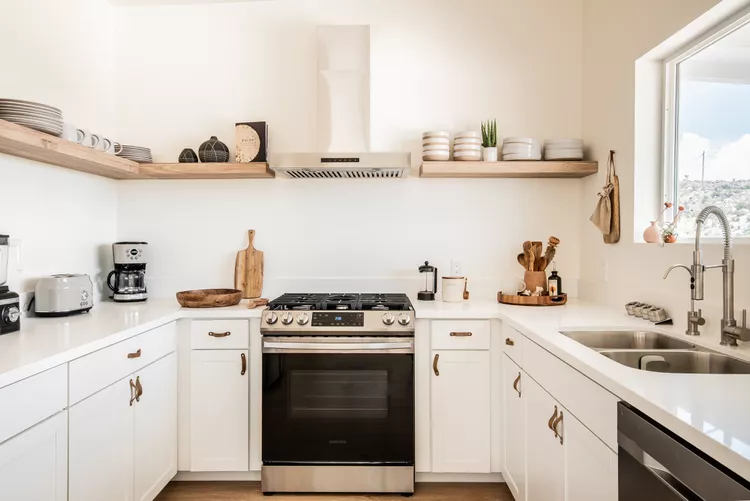 The truth is most of us are confined to a small kitchen with hardly any space to store our collection of reusable products. However, with a closer look at the kitchen, it can be observed that it's also the most likely space to accumulate clutter — utensils are thrown haphazardly in a drawer, with small appliances taking up valuable counter space.
Not only is a disorganized kitchen less appealing, but it also makes daily cooking and cleaning more of a challenge.
If you're looking for intelligent and efficient ways to help you in maximizing space in a small kitchen, these kitchen organization ideas will inspire you to tackle the mess.
Ways To Maximize Space In A Small Kitchen
By carefully using your space and implementing a few helpful additions, maximizing space in a small kitchen and transforming it into a place where food preparation, socializing, and all other aspects of your daily routine can feel effortless will no longer pose a challenge.
The following are ideas for maximizing space in a small kitchen:
1. Create A Spice Drawer
If you currently have spices floating throughout your kitchen cupboards. Investing in a single drawer to house them all in one place will look more organized and make finding the spice you need when you need it much more manageable.
2. Ditch Bulky Packaging
Snack foods like cereals and chips frequently arrive in large, bulky boxes or air-filled bags that take up more space than the contents inside, so ensure to decant them when maximizing space in a small kitchen.
You can also conserve room on your shelf and make your snacks look appealing by placing them in clear, stackable containers.
3. Integrate Your Appliances
One of the simplest and best methods to use when maximizing space in a small kitchen is to integrate appliances into your cabinetry.
Most brands now offer fridges, freezers, dishwashers, microwaves, etc., that can be integrated and concealed behind kitchen panels to blend seamlessly with the cabinetry.
This goes a long way in freeing up kitchen space, which you can use for additional storage.
4. Lighting And Color
In a small kitchen, good lighting may make all the difference. An excellent method to use is to flood the backsplash with diffused light, which visually widens it and gives the impression that the kitchen is larger than it is. In addition, it provides a nighttime eat-in kitchen with a bit of warmth and coziness.
Also, Choose light and neutral colors that can make your kitchen feel larger and brighter, such as white, beige, or light blue.
5. Utilize The Space Above Your Cabinets
When maximizing space in a small kitchen, make sure to use all of the space above your cabinets. You can store the pots, pans, and extra kitchen accessories you use sparingly in this area.
However, do not just stuff the items up there. Arrange some elegant wire baskets to give the storage area a fashionable feel.
6. Invest In Smaller Appliances
If your appliances are too big, keeping your little counter area clear of clutter would be challenging. When maximizing space in a small kitchen, especially your countertop, choose a small food processor, coffee maker, microwave, and other appliances.
7. Roll Your Tea Towels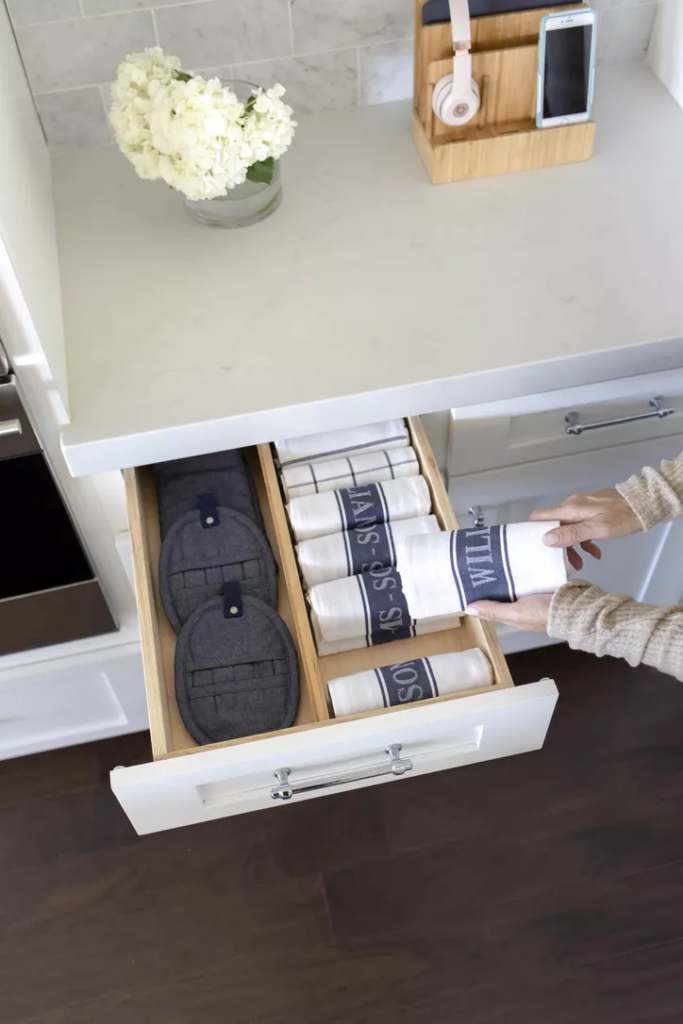 Tea towels that are folded and stacked into an unstable tower that topples over every time you grab them seem messy when maximizing space in a small kitchen.
Place them horizontally in a shallow drawer after rolling them up. In this manner, they appear cleaner and don't cause a hassle anytime you need one.
8. Customize Your Shelf Heights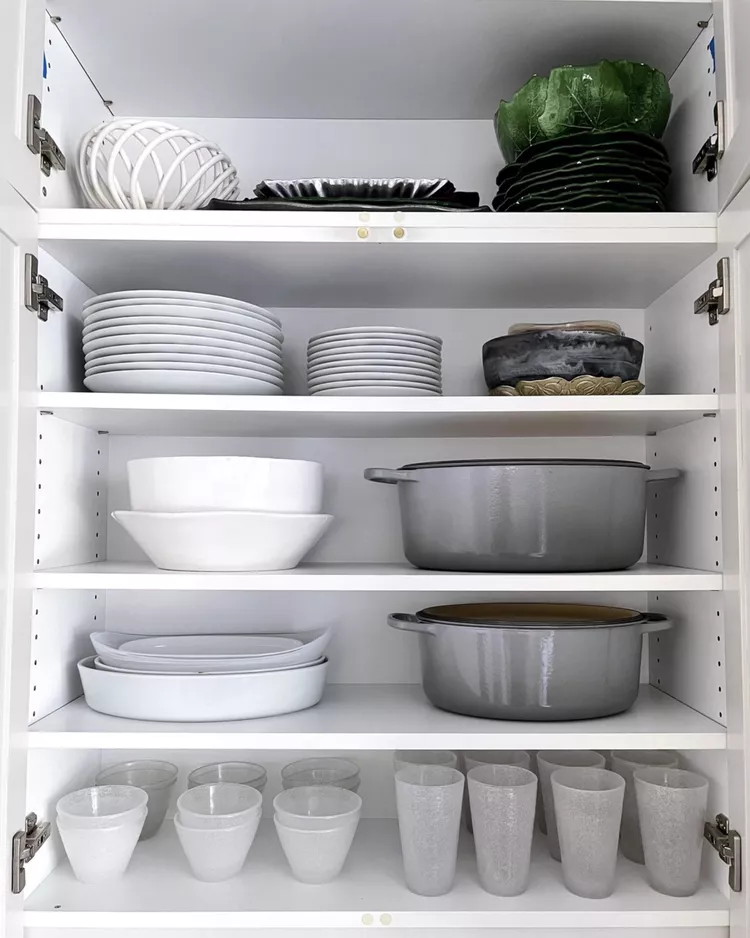 Utilize every square inch by installing shelves and adjusting their heights to the ideal levels for all your dishes if there is empty space above your cups or plates. You'd be shocked at how much extra room you waste.
9. Slim Down Skinny Shelves And Cupboards
In maximizing space in a small kitchen. Utilize the challenging spots in your kitchen with tiny cabinets and shelving. This provides a perfect fitting in corners or on short walls and allows you to store and preserve anything from seasonings to dishware in a convenient area that is easy to access.
Consider installing thin cabinets with pull-out shelves in the corners of your kitchen where you can store your cooking necessities.
Smaller things like mugs and glasses are stored well on skinny shelves. They can be positioned in often empty spaces, such as the area behind the sink or closely between a worktop and wall-mounted cabinets.
10. Limit The Use Of Duplicate Items.
In the kitchen, spatulas, cutlery, and kitchenware swiftly assemble. While purchasing the newest kitchen appliances is alluring, choosing kitchen accessories with multiple uses is more cost-effective.
11. Add Shelves In The Cupboard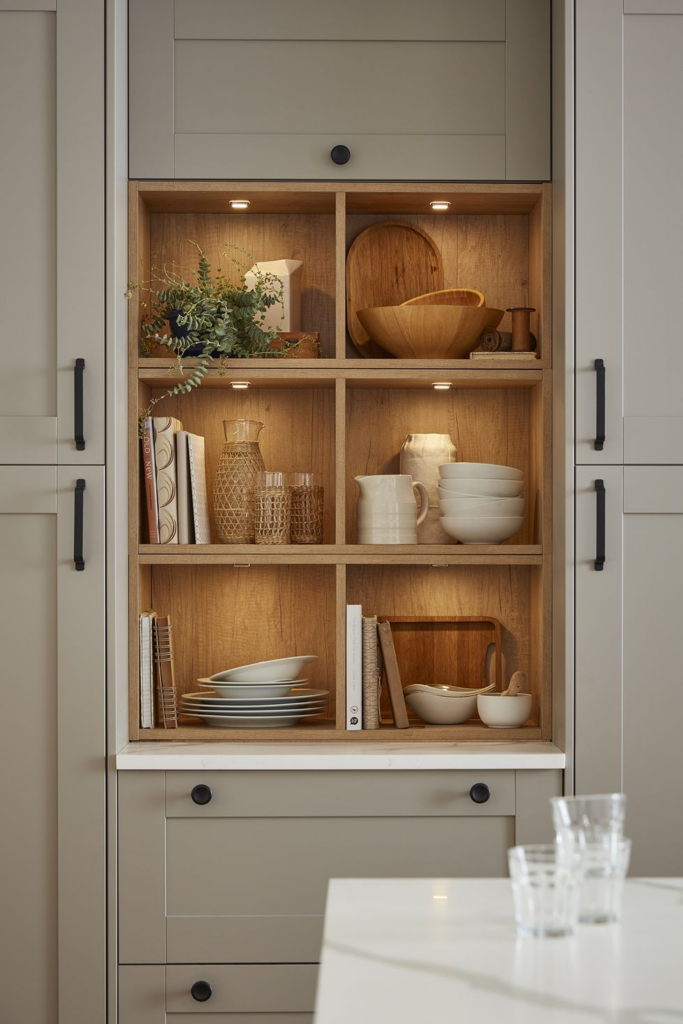 Extra shelving when maximizing space in a small kitchen can also help double your storage space.
You can achieve that by measuring the existing shelf, finding new ones of the same size, and installing them into the cabinetry using mounting hooks. You may also personalize your shelves with this technique
12. Build-in Kitchen Island Storage
Kitchen islands are starting to have open shelving. Here, specialized shelves allow you to store goods while keeping them handy for preparation.
13. Add Corner Shelves In A Small Kitchen
Filling the empty corner of the kitchen with functional accents can help homeowners maximize space in a small kitchen.
14. Mount A Double-Duty Shelf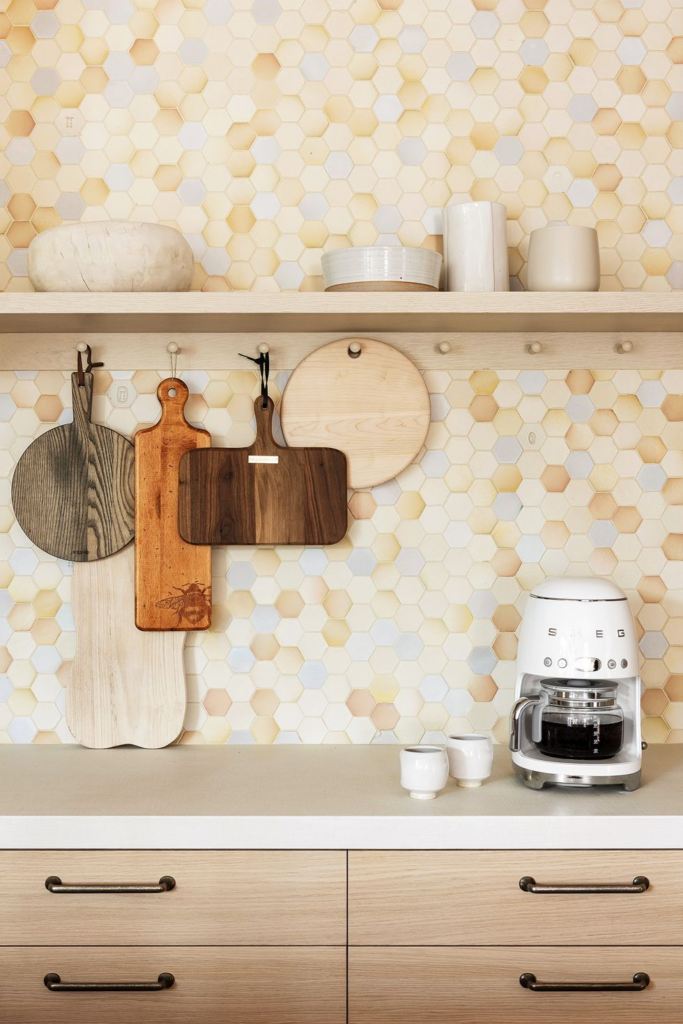 Here, one shelf provides two creative solutions for storing your kitchen necessities: Seasonal platters and attractive dishes should be displayed on the top shelf, and cutting boards and oven mitts should be hung from the bottom hooks.
15. Use Inserts To Maximize Space
You lose a lot of space when you stack platters and casserole dishes on top of one another. Reclaiming and maximizing space in a small kitchen will be less challenging with a set of plastic or wood configurable drawer dividers.
16. Scale When Required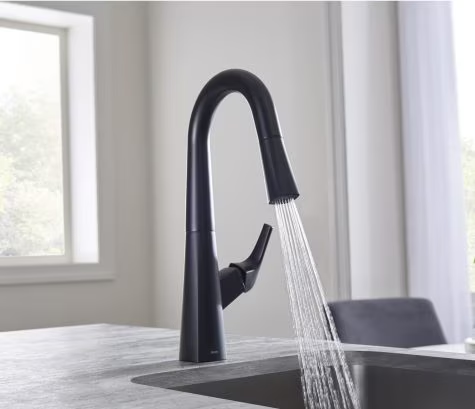 Galley kitchens or other spaces with constrained counter and sink space may benefit from a suitably proportioned kitchen faucet; nevertheless, neither design nor functionality should be compromised.
If you take color schemes seriously, combine a Satin Black finish with the room's white cabinetry and black paint to create a look that might be featured in a glossy magazine!
17. Define Passthrough Spaces
Open spaces and unhindered views create the impression of extra space in a kitchen.
For instance, add side towers or more thin, ceiling-mounted cabinets to the place of wide, blocky cabinetry.
Cabinets with two-sided glass doors let in more light, giving the room a sense of added spaciousness.
18. Add In One Show-Stopping Element.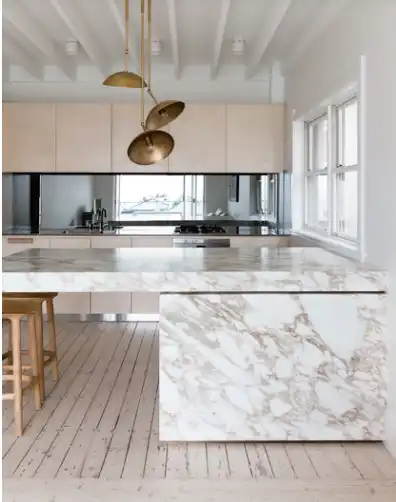 The kitchen, like any other room in the house, requires a focal point that catches people's attention immediately. Adding one striking feature, like a gorgeous stone countertop, may give a modest kitchen individuality and gravitas.
It can also provide a sense of surprise because you might not anticipate seeing such an attractive, lavish material in a little area.
19. Think Vertically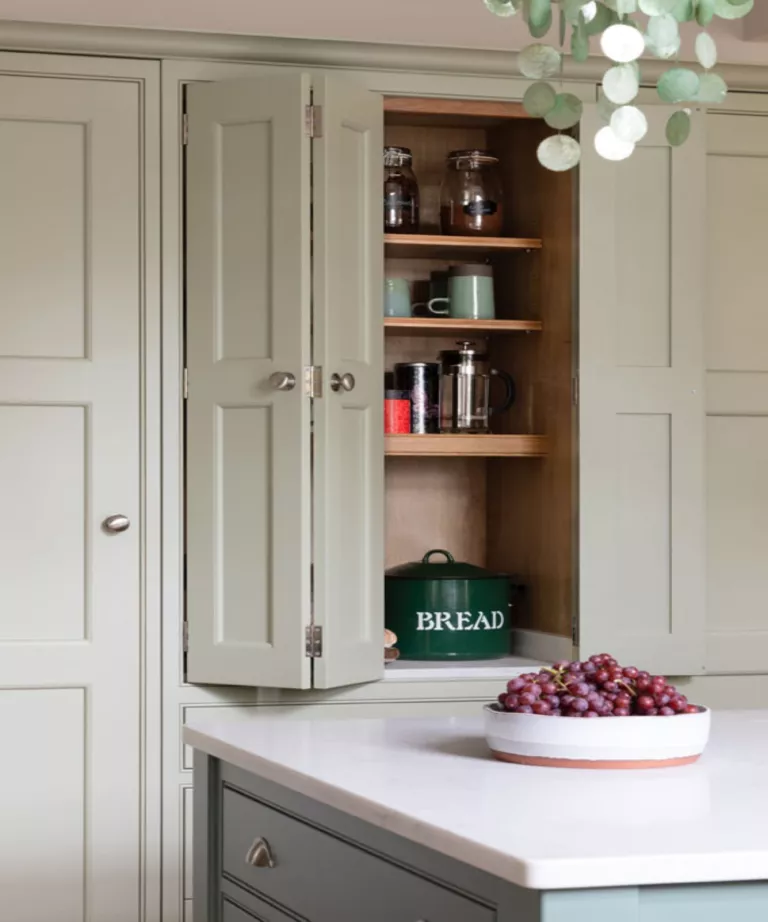 Placing items vertically rather than horizontally in small kitchens is an easy idea when maximizing space in a small kitchen. Additionally, you are more likely to fit larger-sized objects in because they are much easier to access.
20. Use Drawers Rather Than Cabinets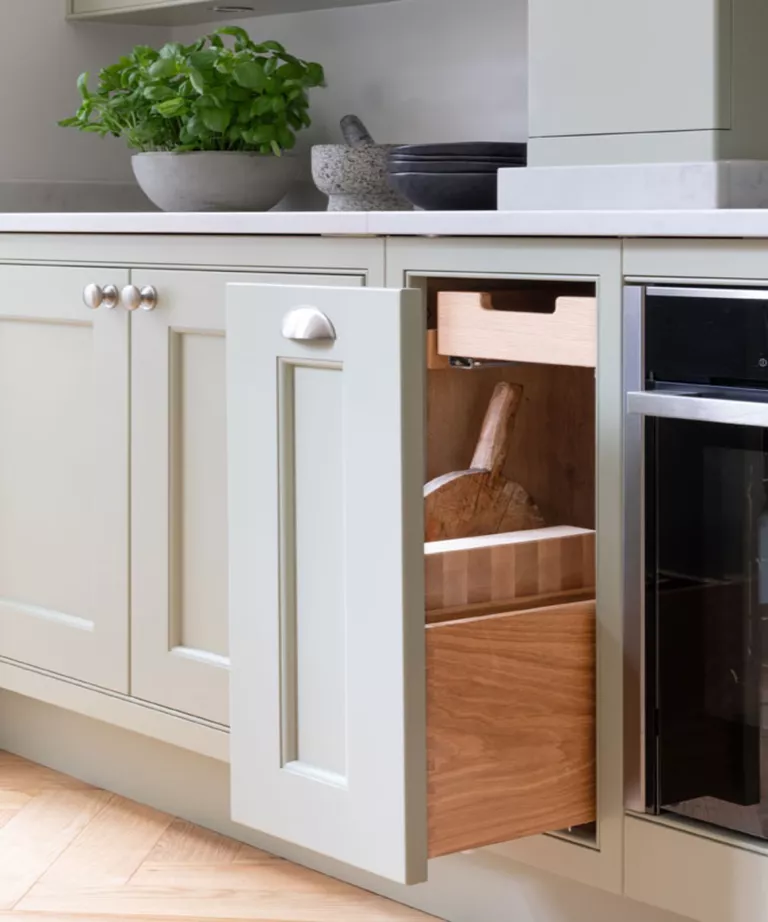 If your cabinets are full, consider using drawers to store items typically kept in cabinets. Drawers are ideal for storing pots, pans, appliances, crockery, spices, etc. This not only expands your kitchen storage possibilities but also improves how your kitchen functions as a whole.
Kitchen drawers are crucial when considering kitchen storage options, especially for a small kitchen, as they frequently provide the best use of available space.
They can be made to meet your needs and provide quick access to kitchen necessities rather than rummaging into the backs of stuffed kitchen cabinets.
21. Keep Food in Check
A well-organized, space-efficient food storage system is required to guarantee that culinary operations go well in small kitchens.
Starting by removing large food packaging from things is highly recommended. Put all your dried goods, nuts, cereals, flours, sugars, pulses, and so on into labeled, clear containers as you would when organizing a pantry.
This makes finding what you need much simpler, and you'll be able to see when necessities are running low.
Keep a food inventory so that you only buy what you need; this will prevent you from buying too much and overstocking your cupboards.
22. Make Use of Hooks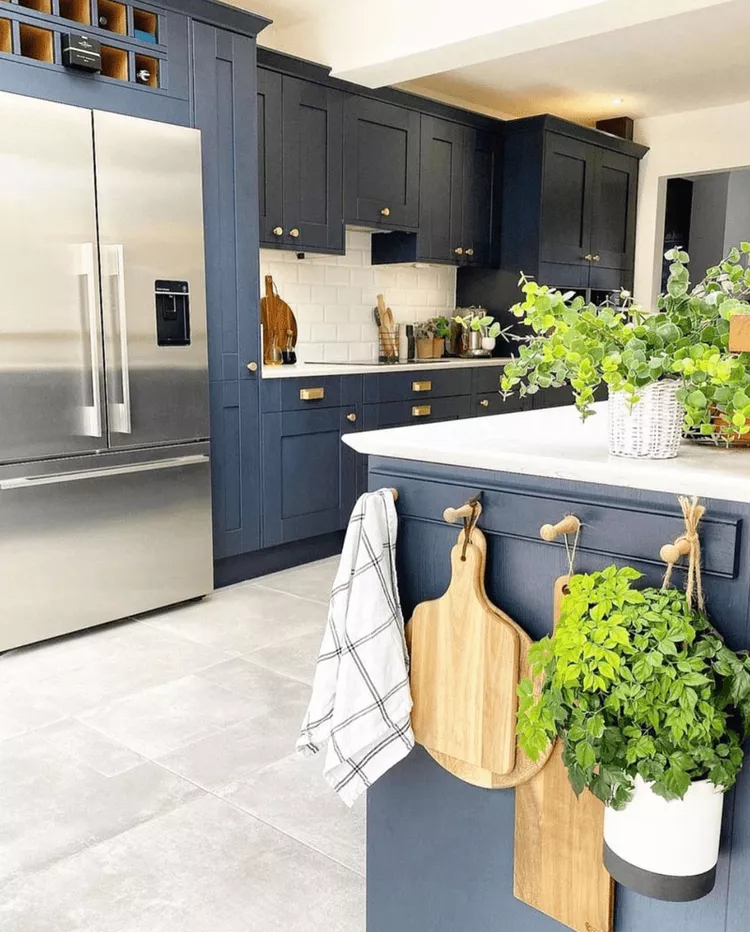 You're losing out on helpful storage space if you still rely on a set of hooks to serve as your kitchen catchall. When maximizing space in a small kitchen, Place some kitchen towels and cutting boards on hooks. This will keep items out of the way but within reach when needed.
23. Use Drawer Separators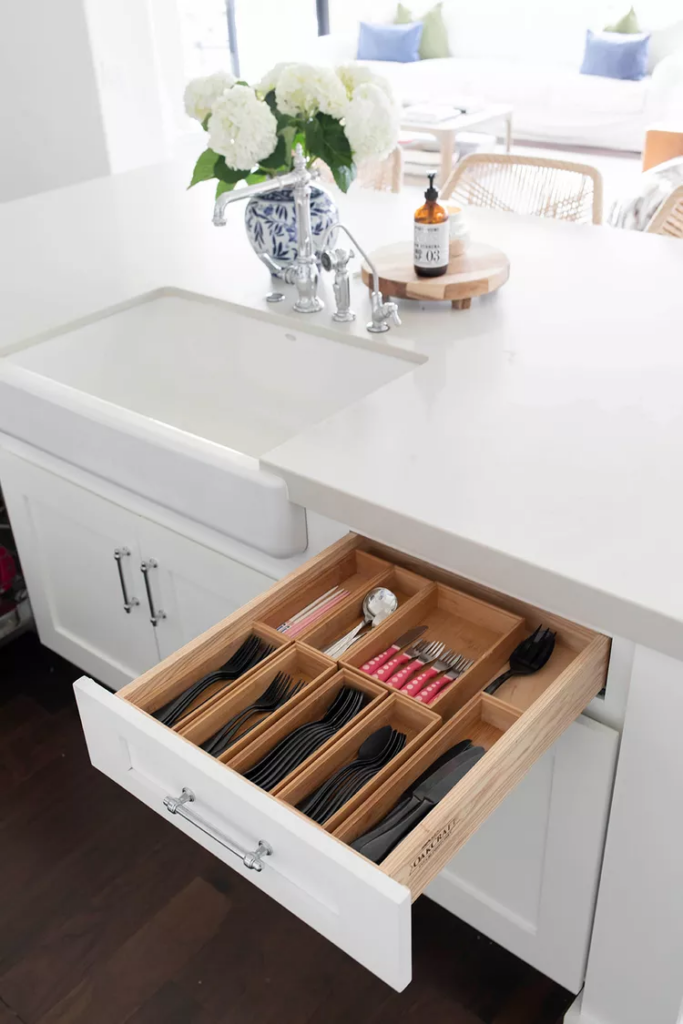 No matter how well-organized you believe you are, the items still strew about and look disorganized unless you utilize drawer dividers. A few trays will keep collections, such as cutlery, together and simple to sort through.
24. Choose A Versatile Seating Arrangement
Even though your kitchen is small, you can still sit in it and enjoy your meals. Just turn your island into a fully functional table with a versatile seating arrangement. Choose a tall platform that allows enough room for stools to stay when they're not in use.
25. Make The Most Of Your Walls
Filling your walls with artwork and decor is one of many ways to give your kitchen personality.
Another great idea for maximizing space in a small kitchen is to utilize hooks and shelves to display your mugs, glasses, and cutlery.
When you have little counter space, a knife rack that is magnetically fastened is also quite helpful. Making your walls useful gives them a purpose and some extra flair.
26. Consider using a Rolling Cart
A cook's worst enemy is a kitchen with little counter space. Where should you make all of your elaborate dishes? Rest assured that you have other options.
Purchase a wheeled cart! Roll it into your kitchen when you need it, and when you're done, slip it into a storage closet.
Even delicate flowers can be placed on the cart and left in the corridor while not in use. You can make the most of the décor element without taking away from kitchen space.
27. Consider The Details
Remember: maximizing space in a small kitchen also means paying attention to details. Your kitchen will have personality and feel cozier if you pick the ideal draperies to hang from the windows and an area rug to put at the foot of your island.
28. Pick Uniform Finishings
A tiny kitchen will appear larger if all the cabinet faces have the same finish. This produces a clean, coordinated appearance. It also adds a touch of refinement to the room, no matter how little.
29. Donate Extra Water Bottles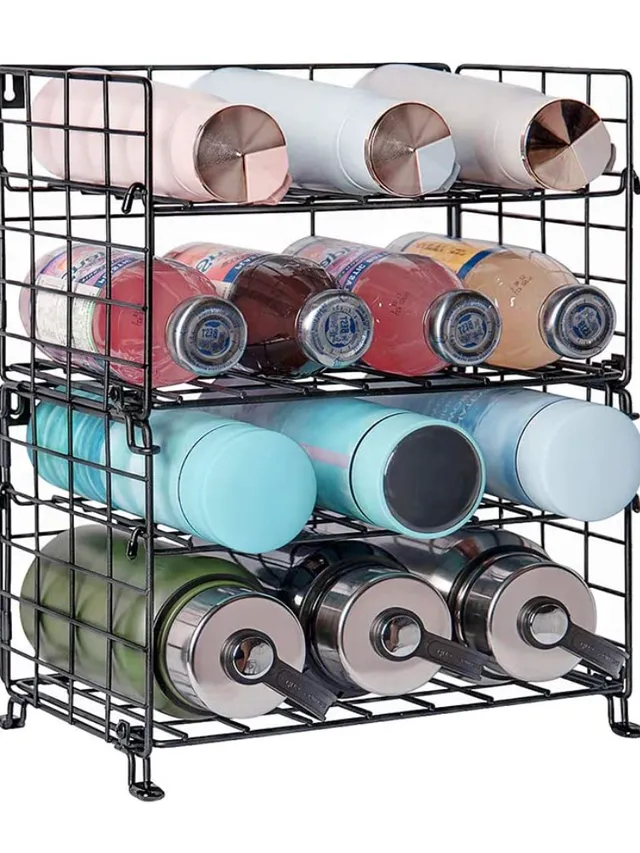 Having a reusable water bottle is excellent. But having them littered around the kitchen makes the kitchen space look cluttered and disorganized. In maximizing the space in a small kitchen, Group the ones you kept on a wall organizer.
30. Accessorize With Intention
Clutters can be your worst enemy in a small kitchen. Electronics, ornamental things, and bottles of lotion or soap could all contribute to this clutter. So, choose wise accessories while setting up your kitchen. Select decorative items that give color and height, and use them sparingly.
Another trick when maximizing space in a small kitchen is considering a built-in soap or lotion dispenser around the sink area that matches the style and finish of your faucet.
Not only will it eliminate one or two additional bottles on the counter, but it will also give the space a professional touch of detail.
31. Add Counter Space Over Your Sink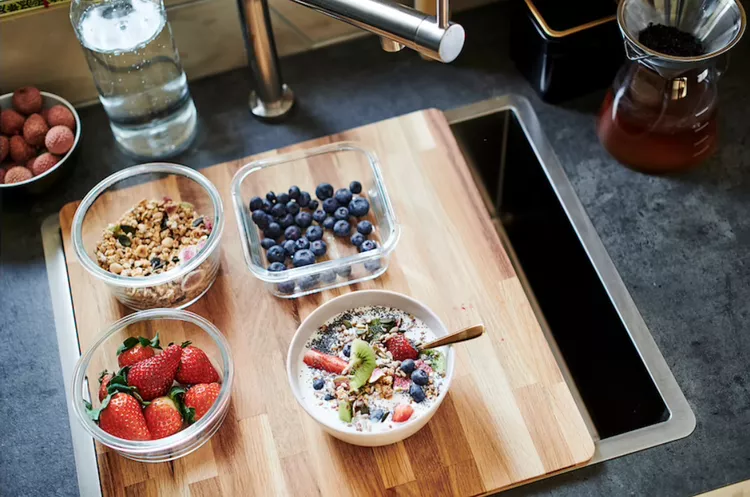 This idea is brilliant for making the most room in a small kitchen. Using a sink cover can give you extra prep room. Many readily available, inexpensive, over-the-sink options will provide additional space while your sink is unused.
32. A DIY Plate Rack
The DIY plate rack is an attractive storage solution for oversized items like platters and cutting boards.
33. Create A Pantry Using Mason Jars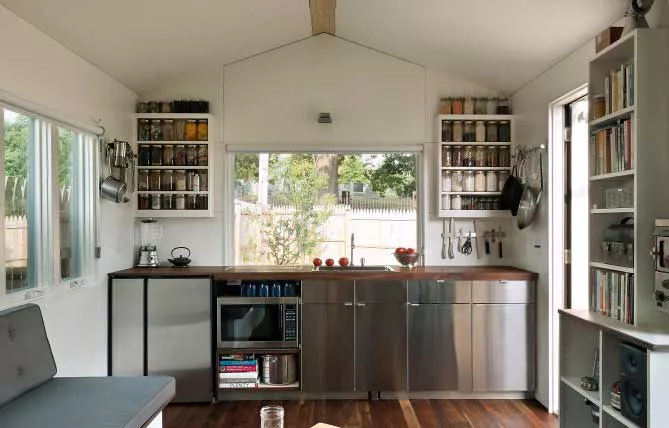 In the absence of a pantry and in the quest for an idea to help when maximizing space in a small kitchen, you can use mason jars to create the storage you need on a blank wall.
Products like flour, pasta, and other dried food can be stored by pouring each into a separate quart-sized mason jar and placing them in constructed wall kitchen racks.
34. Take On a Tray
Sometimes, all you need when maximizing space in a small kitchen is a simple tray to make the kitchen feel decluttered and more open.
We may trick our brains into thinking things are orderly by placing items like a knife rack, a spoon holder, a mortar and pestle, and a kitchen timer on a cutting board or tray. It's a simple tip that can significantly improve your feeling of visual organization.
35. Install Tile From Floor To Ceiling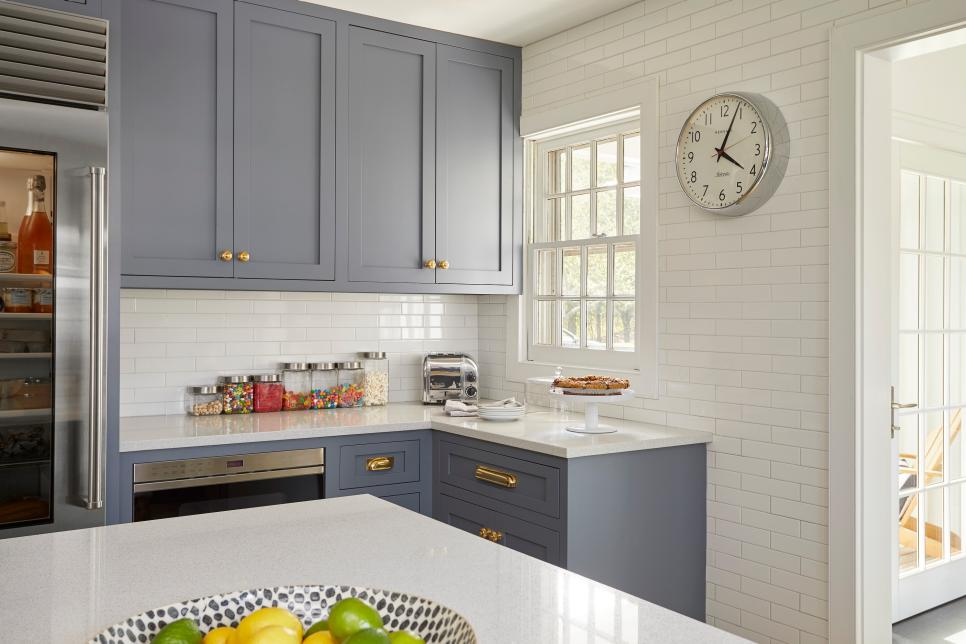 Floor-to-ceiling tiling is the perfect statement-making feature for small spaces. You can give your kitchen a striking makeover with timeless white subway tile that goes far beyond your backsplash.
The horizontally arranged tiles will visually expand your walls, giving the room a wider appearance and giving the area an elevated appearance.
Pro tip: Lay your subway tiles vertically to make your kitchen ceiling appear taller.
36. Try Folding Kitchen Tables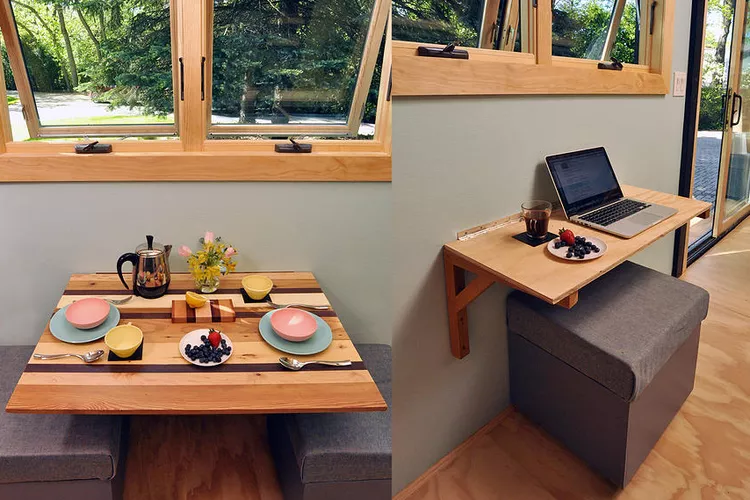 Try out a folding kitchen table when maximizing space in a small kitchen. A folding table can provide a spot to prepare and eat food without wasting valuable floor space. It also offers the perfect idea for a desk you can tuck away when you're finished working.
37. Store Small Snack Items In Baskets
Granola bars and lunch-sized bags are examples of smaller snack foods that accumulate in cupboards and at the bottom of drawers. Choose easy-access baskets to keep them all together in a single place.
38. Install Slide-Out Drawers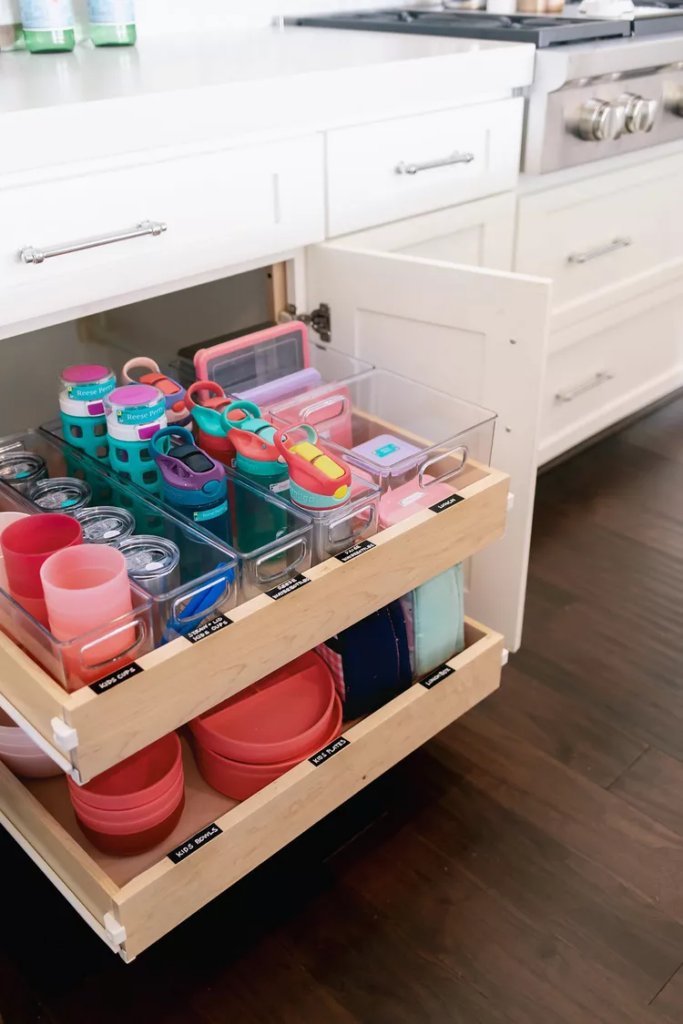 Most cabinets have a considerable amount of room, and sometimes it can feel impossible to access that space. Instead of kneeling and reaching what feels like your entire upper body into the cabinet, install slide-out drawers.
These convenient pull-outs make it easy to achieve that far-back cabinet space you usually don't get to use.
39. Install A Narrow Shelf
A brilliant addition to any compact kitchen is a narrow, tall drawer for seasonings and cooking oils typically positioned near the stove. It offers a pleasing style for maximizing space in a small kitchen and holding plenty of cooking essentials within arm's reach.
40. Try An Over-the-Sink Cutting Board
If you need floor space, a clever temporary solution is a cutting board that hangs over the sink. This one lets you rinse your hands before cutting.
Conclusion
Maximizing space in a small kitchen requires creativity, organization, and intelligent design choices. Using the tips and ideas mentioned, you can make your little kitchen into a practical, aesthetically pleasing place that meets all your culinary demands.