One of the most crucial components of your home's roofing system, gutters direct rainwater from your building and protect the foundation from harm. They are available in various materials and designs, with some being more well-liked than others.
Advantage Seamless Gutters wants its consumers to be completely informed about their purchases and as well-versed in the various gutter materials that are on the market as feasible. When you hire local gutter contractors for a new gutter system, knowing the advantages of each material will help determine the best choice.
Rain gutters lower the chance of a flooded basement or broken siding, as well as the erosion and damage to your landscape, by directing water out from the foundation of your property. Additionally, people who want to save water can direct gutter runoff into a water container that will act as a reserve for the garden. Even though rain gutters are straightforward structures, there are numerous layouts and various materials that can be used to create them. Whether you're installing rain gutters for the first time or need to replace old, rusted ones, this information will help you make the best decision.
Types of ROOF Gutter Materials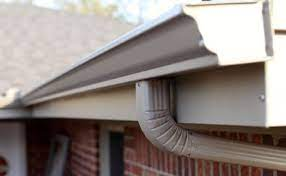 There are different types of Roof gutter materials available for you to choose from, but here some of the ones we chose.
Aluminum Gutters
Aluminum gutter solutions are among the most common gutter options since they are lightweight, rust-proof, and simple to install. Aluminum gutters can endure frigid temperatures better than other materials. Additionally, homeowners can paint this material any color that would complement the exterior of their house.
Vinyl Gutters
A vinyl gutter solution is a popular option for homeowners looking for a lightweight and cost-effective option for gutter replacement. The only issue is that if you reside in a cold climate, your vinyl gutters may eventually crack and cause water to collect in some areas.
Steel Gutters
Similar to aluminum, there are various options for steel gutters. The most common type is by far galvanized steel because it is both inexpensive and durable. However, rust will ultimately cause damage, so homeowners must adhere to a strict maintenance program if they want their steel gutters to last for a very long time.
There is a gutter system out there for your house, depending on your demands. We make gutter replacement hassle-free at Advantage Seamless Gutter.
Zinc Gutters
They are pricey yet very strong, resisting rust, deterioration, and warping.
Your zinc gutters should last for up to 50 years. Zinc gutters will eventually acquire a lovely patina, despite the fact that they initially have a drab gray color. Zinc gutters are typically exclusively used on historic or upscale properties because welding is required at the joints and ends.
Copper Gutter
Copper has a distinctive beauty, but over time the sheen will fade and turn green.
Many homeowners believe that the copper's weathered appearance adds to its vintage look. Even while copper is the most resilient type of rain gutter and can withstand temperatures ranging from the hottest heat to the lowest freezing, it is also the most expensive and cannot be installed by a do-it-yourselfer. Copper rain gutters, which are typically only found on expensive homes, can endure up to 100 years if installed and welded correctly.
Wood Gutters
Except during rehabilitation projects, wood gutters are uncommon. Additionally, they cost a lot—starting at around $15 per linear foot fitted and rising as high as $25 per linear foot—depending on the type of wood used. Old-growth cedar was used to make the first wood gutters, a material that is now very scarce. Gutter replacements made of young growing cedar or hemlock hasn't worked as well.
Integral Gutters
In the 1960s, integral gutters were a common gutter type. This system is made up of the fascia and rafters at the termination of a sloped roof. The gutter can hold a lot more water than some other types of gutters since it is lined with constructed roofing material. The drawback of this gutter design is the possibility for leaks, which can harm the roof's sheathing, fascia, soffit, and framing. Every five to ten years, the lining needs to be fixed or replaced.
Quarter-Round and Half-Round Gutters
Only homes built in the 19th century have gutters that are half-round or quarter-round with round downspouts. They greatly improve water flow, but to accommodate the same capacity, they must be one inch longer than K types. As a result, 5-inch K-style gutters are equal to 6-inch half-round gutters.
Fascia Gutters
A rainwater system attached to a fascia board is called a fascia gutter. It is frequently a specially built rainwater gutter that serves as a fascia board and is attached to the ends of the rafters. In the Western region of the country, it is frequently encountered.
FREQUENTLY ASKED QUESTIONS (FAQ) REGARDING DIFFERENT GUTTERS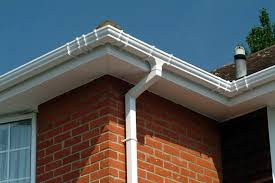 How much does installing gutters cost per foot?
Gutter installation costs vary depending on the gutter's material. Installing aluminum gutters costs between $6 and $12 per foot, while installing vinyl gutters ranges from $3 to $5 per linear foot. Installing copper might cost up to $40 per foot. Costs may rise as a result of intricate structural or architectural details.
How long do a house's roof gutters last?
The gutter's construction material will determine this. Copper gutters would last 100 years while vinyl gutters only last approximately 10 years. Aluminum gutters, which are the most popular type, have a lifespan of 25 years.
How are sagging gutters fixed?
There are several techniques to fix gutters that are sagging. First, make sure your nails are still secure; tighten or replace any that are loose. Alternatively, you can turn the screw on any hooks that may have become weak or install gutter pegs in the problematic areas of your roof gutters.
Can the roof be replaced without the gutters being replaced?
You may. Although it is not required, many homeowners decide to repair their roof gutters whenever they install a new roof. Before work starts, confirm with your roofer because they occasionally make assumptions and you'll want to be on a similar page with them.