Moving into a new house can be exciting. Everyone likes a new and clean environment but most hate to clean. Moving into a new house is similar to a new beginning. The excitement of new surroundings and all of that but when we look at the task of cleaning a new house, we may feel a little bit sad.
Giving your new home a complete deep clean before placing any heavy furniture or other things and unpacking all of your personal belongings is necessary. Even when your new house appears to be clean and has a fresh scent, there may still be bacteria, germs, and dirt hiding somewhere. Some people even seem confused about where or how to start cleaning a new house.
So we are here to give you tips on how to clean your new house so you don't become overwhelmed. But first, let's look at the materials and some tools needed for cleaning.
Tool and Materials for Cleaning Your New House
A. Scrubbing Brush
A scrubbing brush is used for scrubbing and washing a surface. The bristles of this brush are usually about one inch thick, round, and have a long point at the top of the bristles. It can be used to scrub surfaces such as bathroom tiles etc.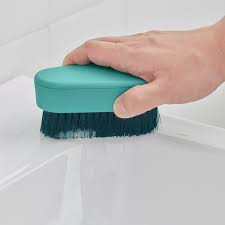 B. Broom, Dustpan, and Mop
Brooms are used to sweep the floor and remove dust that has accumulated on the floor, in corners, and in other areas around the house. It can also be used to remove dead insects or other unwanted particles that are found lying on the floor or on surfaces in the house. Dustpans, on the other hand, are used to collect dirt and debris. While a mop stick is used to clean the floor.
C. Vacuum Cleaner
Vacuum cleaners are used to remove dirt and other unwanted particles. The majority of vacuum cleaners are lightweight and can fit into small rooms. Before purchasing a vacuum cleaner, make sure that the machine is easy to maneuver around the house and strong enough to remove dirt from carpets and other surfaces. The vacuum cleaner is very important, especially when cleaning a new house.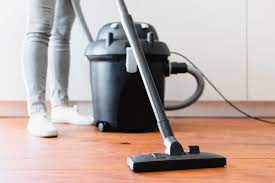 D. Duster
Dusters are usually made of soft cotton that is mounted on sticks and is used for removing dust from surfaces. This is a cloth used for wiping dust off of objects such as tables or windowsills. They are also used for cleaning upholstery, blinds, and other surface areas where dust can accumulate.
E. Sponge
Sponges are used for cleaning the kitchen sick or bathrooms. They play a vital role in the cleaning process. If are there stubborn stains that have refused to go out, use a sponge on them. However, make sure you wash it after using it.
F. Rubber Gloves
These are meant for protection. They help protect our hands from harsh chemicals that are used while cleaning. Using hand gloves when cleaning also prevents you from getting cuts and scratches that might injure you. So when next you are cleaning use gloves to protect your hands.
11 Tips for Cleaning a New House
As you go through each room, use these tips to make your job easier
1. Clear the Clutter
Clutter can be a huge pain to deal with when you are cleaning. That's why we recommend that you take it out before any other thing. So takes out items that don't belong to the room or house. Find a suitable place for them like a store room. Having all of the furniture in one place, like the living room, will help you know where things go and make a plan of attack easier. This way, nothing is in the way that will delay your cleaning.
2. Start High and Low
This simply means you should start dusting your new house from up. That's the ceiling, fans, ceiling light fixtures, and ceiling trim. The essence of starting from up is to prevent you from wasting your energy. You may ask how. When you start from the floor first and later clean the top, dust, and dirt are bound to fall on the floors. So hope you understand now.
3. Dust and Vacuum
Dust is the first thing we usually notice when we enter the house. Dust and clean every nook and cranny of the house. Leave nothing untouched. Use a damp cloth to dust surfaces. After dusting, vacuum the room, especially the top and sides of the appliances. This way, every trace of dust particles is eliminated.
4. Wash Windows and Screens
When you are done dusting the house, wash all windows and screens with a solution of warm water and vinegar. Also, don't forget your window ledges and clean out any bird nests that are located there.
5. Clean and Organize Cabinets
Once the clutter is out of the way, it's time to clean and organize your cabinets. In cleaning the cabinets, make sure you remove all the items inside and clean them properly. Then replace them later if they are still needed. After cleaning the cabinets in the room, and living room, your next stop should be your kitchen. The Kitchen space is a world in itself. You should take out time to clean the cabinets.
6. Disinfect Countertops and Surface Areas
Surfaces are easily infected with germs and microorganisms that's why disinfection is needed. Disinfecting surfaces helps to reduce the number of germs. It's a new house and the last thing you want is to harbor germs in it. Disinfecting surfaces equally reduces the chances of getting sick. As important as cleaning the new house is, same as disinfecting them.
7. Clean the Refrigerator and Freezer
A fridge is where you keep your food for preservation. For that reason, it's always a good idea to clean the fridge inside and outside once you are done dusting. Don't forget to clean the shelves in your fridge. To clean it just take out the drawers or compartments and wipe them down by using water filled with vinegar in a spray bottle. Put them back in place after that.
8. Cleaning the Kitchen Stove
Sometimes while cooking, food particles stain the top of our gas or cooker. In such cases, you need to use a baking soda solution to get rid of them. Baking soda is one thing that shouldn't be lacking in your new house, always keep it handy. This is because it is a mild abrasive that can help remove stains without scratching the surfaces. Don't forget the glass shelves, cutlery drawers, and other items in the kitchen.
9. Wipe Mirrors and Glass
The mirrors and glass should be properly cleaned before we move into a new house. To clean mirrors and glass, you need a moist cloth as well as a damp one. Wipe with the moist cloth first then clean up with the dry cloth for a sparkling, stain-free glass.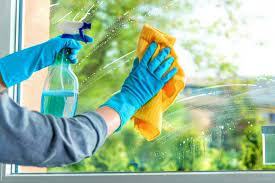 10. Focus on Tubs, Sinks, Toilets, and Bathrooms
Cleaning the sinks and toilets requires more care and attention. This is because when the surfaces are not properly cleaned, bacteria and germs can grow back. Make sure to clean the entire surface of each of these. Our bathroom equally needs to be thoroughly cleaned with disinfectant, before unpacking all of your towels, soap sets, toothbrush holders, etc.
10. Pre-treat Stains
To easily remove stains from carpet or upholstery, pre-treating is a very good idea. It helps to eliminate work by preventing new spots from becoming stains in the first place.
11. Clean the Floors
This should be the last step in your cleaning process. After all, you wouldn't want to use sofas and tables on dirty floors now, would you? Clean starting from the innermost part of the house like the room then gradually move towards the outside.
Ensure to know the cleaning agent that will be compatible with your floor and avoid those that will harm or destroy it. Mop the floors using a solution made of warm water and vinegar.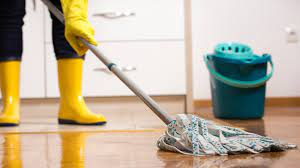 Also read: How to Choose the Right Material for your Home Furniture
Conclusion
Even though a deep clean before moving in requires a lot of strength and energy, in the end, it's worth the stress. You will feel more relaxed knowing that you are not sitting on a pile of dirt. Your house will be cleaner and you have peace of mind knowing that your new house is clean.
And now that the house has been cleaned, you're ready to furnish it and make it your own. Thank you for reading my article on cleaning a new house. I hope that you found it helpful and somewhat insightful.