Whether you experience an irregular power supply or there is a disaster that has caused the power lines to go down, 5000 watts generators are very helpful in providing power when the lights are out. It is an alternative power source for countries that still experience power outages and could be a lifesaver in moments of emergency.
Generators come in different sizes and have the ability to carry electronic devices based on their wattage. While many industries are mostly powered by large diesel-powered generators, home users prefer to go for a smaller generator with just enough capacity to carry basic household electronics.
A 5000watt generator is usually the best option for home use as it gives enough power to run necessary appliances from refrigerators to air conditioners and freezers. They can also be used on construction sites, during camping or outdoor events to power necessary tools.
There are a number of 5000watt generators to choose from but we will be showing you 5 of the best. Keep reading.
5 Best 5000watt Generators for Home Use
1. Honda EM5000SX
This 5000-watt generator has an electric start and a start-watt capacity of 7000 watts. This means you can get 7000 watts of power for about 10 seconds. Sounds cool, yeah?
Well, the generator has a single cylinder and fuel tank capacity of 6 gallons. With a noise level of 66dba and 63dba at 50% load, this generator will leave your eardrums intact. On 50% load, you get a runtime of 11 hours and can enjoy 3 years residential and commercial warranty when you get a new one.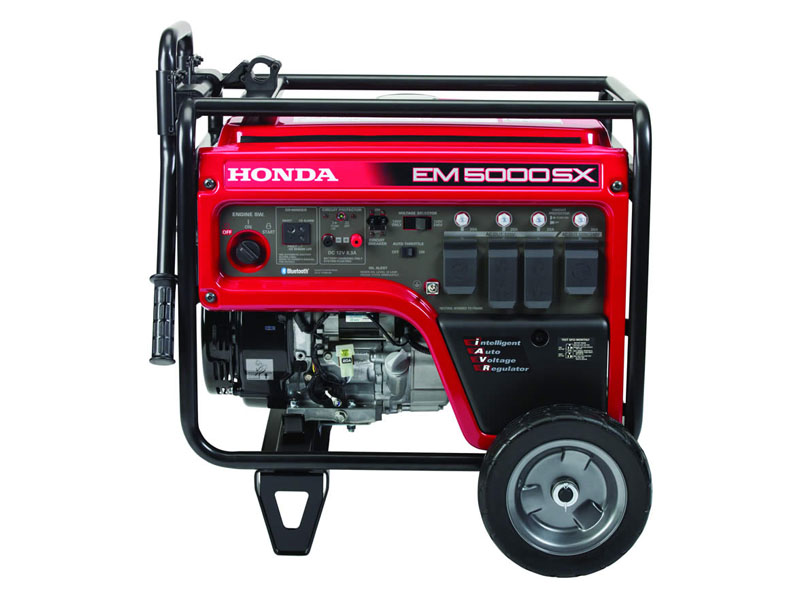 2. Pulsar 81963
This is a 5000-watt propane generator that runs on either gasoline or liquid petroleum gas (LPG). It produces over 5000 watts when run on gasoline and 4,700 watts when run on LPG with an ability to effortlessly switch between both.
This generator has a 78dba noise level which isn't so bad but its fuel efficiency makes up for the loud noise. With a fuel tank capacity of 4 gallons and a 12hour run time on 50% load, this generator is quite economical for those on a low budget.
3. Champion Power Equipment 100496
The champion power equipment is a conventional generator with a 120/240 volt and 30A locking. This 5,000watt gasoline generator has a runtime of 9 hours on 50% load and a fuel tank capacity of 7 gallons.
This generator has a recoil start type which may not be convenient for some. The 74dba noise level may also be too loud for many however, this generator has a 3-year limited warranty which is kind of cool. This is why it is one of the best 5000watts generators for home use.
4. Champion Power Equipment 100519
This is one of the coolest generators to make our best 5000watts generators for home use list because unlike others, this generator is an inverter-type generator. With a fuel tank capacity of only 4 gallons and a 12.5-hour run time on a 25% load, this is one energy-conserving generator. You can certainly use this generator all through the night without having to worry about interrupting your sleep to refill the tank.
This generator has a noise level of 69dba which is great but a recoil start type might mean you have to hit the gym to get your generator started. This generator comes with a 3-year limited warranty; another great reason why you might want to go along with this generator.
5. Power smart PS46
The power smart PS46 is a conventional generator with four 20Aamps;120volt outlets and one 30Amps 120/240volt outlet. It has a recoil start type and a noise level of 74dba. The generator has a 7.4-gallon fuel tank and a run time of 10 hours on a 50% load.
This generator has a 2-year limited warranty so you don't have to worry about extra expenses if it gets broken for the next two years after buying.
When next you go generator shopping, feel free to go along with this list of the best 5000 watts generators for home use and get the best value for your money. If you already have a generator that makes the loudest noise, you can find the best tips here that can help you make them less noisy.