If you live in a multi-story building, chances are that you will need to use a ladder on the stairs once in a while. Ladders are one of the most important tools needed in the home. However, they're not always the easiest to use, especially when you need to climb heights, whether you're trying to paint a room, change a light bulb, decorate the stairs, etc.
According to the Centers for Disease Control and Prevention (CDC), approximately 20% of fall injuries among workers involve a ladder. Sometimes, we are faced with situations where we need to use ladders on surfaces that are not equal such as on stairs. In such a situation what can you do? Below are the ways we have enumerated to use a ladder on stairs.
Ways to Use Ladders on the Stairs
When using a ladder on the steps, your safety should take priority. So even if it's something as little as a one-time job, try to use ladders that are safe to avoid injuries.
1. The Use of Stair Ladders Make a Difference
A stair ladder often called a combination or multi-position ladder offers the ability to be used on uneven surfaces. It's the ladder that's best suited for the stairs. The legs of the ladder can be adjusted to fit two different lengths.
Buying a stair ladder makes a lot of sense if you need to work on the stairs. This is because of the uneven floor. If you live in a multi-story building or you are a construction worker, painter, etc., the appropriate ladder is needed. It will enable you to work safely without accidents.
Stair ladders are easier to manage than traditional ladders. They're also more stable and safe for use on stairways. Using the appropriate ladder can help you not only reach the top of the stairwell but also to reach the ceiling. And one advantage of stair ladders is that they are flexible.
2. The Use of Ladder Aide and Tools on Stairs
A big challenge with using conventional ladders on stairs is that the legs are equal. That way it won't balance on the stair but when you use leg extensions with the ladder, it gives you an option to turn your ladder into a multi-purpose ladder as it gives it balance so that it can be used on different surfaces like the stairs. It's made in a way to prevent slipping and accidents.
A ladder aid can only bear a weight of 500 pounds, so before you go to purchase your ladder aid, make sure you know the weight it can carry. Some advantages of using a ladder aide are that it can bear heavy weight, it's secure, it allows you to adjust the ladder height, and it can be moved from one place to the other.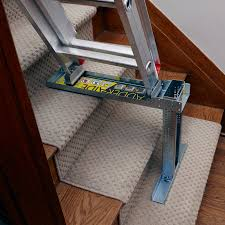 3. Ladder Leveller Can be Used on Stairs
If you have to work on the stairs, another option to consider is a ladder leveler, also known as a leg extender. It's an extra leg that's been added to one leg of the ladder. A ladder aid enables one to adjust one side of the ladder. Here, you need to install the leg extender permanently, though it's easy to install. It's safe to use and offers you the ability to use it for a long time.
4. The Building of a Ladder Deck on Stairs
Another way to use a ladder on stairs is to build a scaffold. The scaffold is a temporary solution and the most ancient way that you can use as a ladder on stairs. For this to work, you need conventional two ladders.
Yet another material that is needed here is a wooden deck to span the length of the two ladders that you will stand on while you work. The advantages of using a scaffold are that it requires no permanent installation, it can support a heavyweight, and it can cover a large area of the stair wall.
Also read: Why is My House Paint Falling Off?
Safety Knowledge You Need to Know about using Ladders on Stairs
Every ladder has a weight capacity that it can carry, so do not exceed the weight that's stipulated by the manufacturer.
Check your stairs and make sure there is no slippery surface or object that can lead to a fall.
Do not be in haste while climbing or getting down the ladder; your safety is more important than anything else.
Form the habit of reading through the ladder manual and its usage.
Use tool belts to carry accessories when you want to use the ladder.
Final Words
Using a ladder on stairs requires extra care and precautionary measures to avoid any accidents which may result in severe injury or even death. So you should know how to use one before you venture into it. Knowing various ways to use ladders can be very helpful so that whenever the need arises you can know what to do. I hope you found this article helpful.