Suppose you need to hang a painting above your stairs or fix a broken ceiling. You'll need a reliable ladder for your stairwell that can help you stay firm above the ground without falling accidentally. A ladder is a piece of equipment that consists of a series of horizontal steps connected between two vertical bars, used for climbing.
If you live in a house with stairs, chances are that you've had periods when you needed your hands to reach higher than they usually would. Even simple tasks like changing the light bulb above your stairs can prove to be a difficult task without the right ladder. If you've ever found yourself in such a situation, this article is for you.
Similar: Best Ladders for cleaning gutters according to science and research
Ladders are mostly made of Aluminium but can be made of other materials such as wood and ropes. They come in different types and can be either self-supporting or require a surface for support.
There are certain ladders that have been made to function optimally on stairwells. It is important that you first consider certain tips as stated by Occupation Safety and Health Administration before choosing a ladder for your stairwell. Let's have a look at some of them.
Tips to consider when choosing a ladder for your stairwell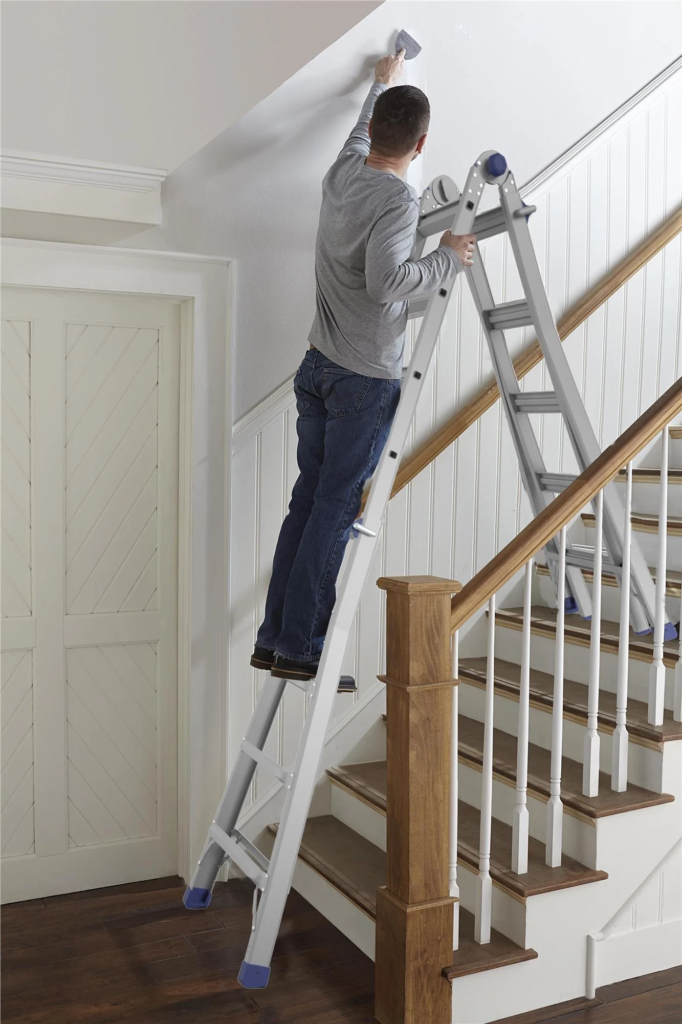 1. The height of your ceiling
Some houses have a higher ceiling than others. When choosing a ladder for your stairwell, it is important to take note of how high your stairs are to the ground. Also, understanding that the ladder could have other functions other than the one you immediately need it for can help inform your decision on what length to go for.
For example, you need a ladder just to hang a painting on the wall above your stairs however, you may also need a ladder to fix a broken light bulb. This means a ladder that reaches the ceiling will be better for you.
2. The weight of the user
Some ladders are stronger than others because of the materials they are made with or the density of the frame. Before you purchase a ladder, consider your weight. You really do not want to crash land on the step using a frail ladder.
If there is someone heavier who may likely use it, then it helps to put that person's weight into consideration instead. You may not always be available to use the ladder hence, the next person will be the one to use it.
Most ladders have the weight that they can carry on the rating label. You can find this label on the body of the ladder.
3. The strength of the ladder
Some ladders are stronger than others because of the materials they are made with. When shopping for a stairwell ladder, you want to pick the strongest ladder possible to limit the risk of accidents.
Though heavy, fibreglass ladders are considered one of the strongest ladders and can be the most suitable for your stairwell. Aluminium can also come in handy since it is cheaper and lightweight.
4. The foot of the ladder
Many ladders come with anti-slip footing but there are some that come without. This is common with wooden ladders. Anti-slip footings help to keep your ladder in place and can prevent the ladder from slipping.
This is an important safety tip that must be considered. Depending on the kind of floors you have, using ladders without anti-slip footing can be dangerous. Ensure that the ladder has a rubber footing that sticks to the ground when using it on your stairwell. Let's look at some of the best ladders that you can use on your stairwell.
See also: How To Build Round Steps Out Of Wood
5 ladders you can use on your stairwell
1. Flip-n-light step ladder with platform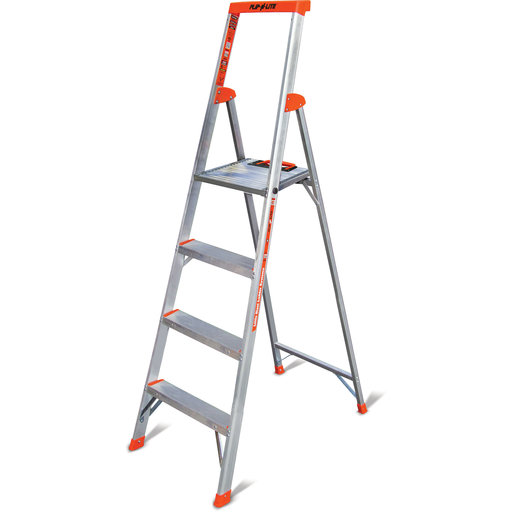 This is a lightweight aluminium ladder with a weight-carrying capacity of 300 pounds. The ladder can be adjusted to different heights and has a strong platform on which you can stand. The platform has a protective extension and enables users to move around without coming down the ladder to switch positions.
The flip-n-light ladder has an adjustable side that allows the ladder to balance comfortably on stairwells. It also has a reliable footing to prevent slips. This ladder has a maximum reach of 10 feet and may not be a perfect choice if you aim to reach longer heights.
2. Little giant 15130-001 select step fibreglass
This ladder is made of fibreglass and provides maximum security for its users. The rails are made of non-conductive fibreglass resin. This makes it a great option if you need to fix broken bulbs or electrical issues over your stairwell or anywhere else.
Little Giant 15130-001 has a 375-pound carrying capacity. It also comes with a platform but the platform has no protective extension and might not be the best choice for first-time users.
3. Cosco aluminium staircase ladder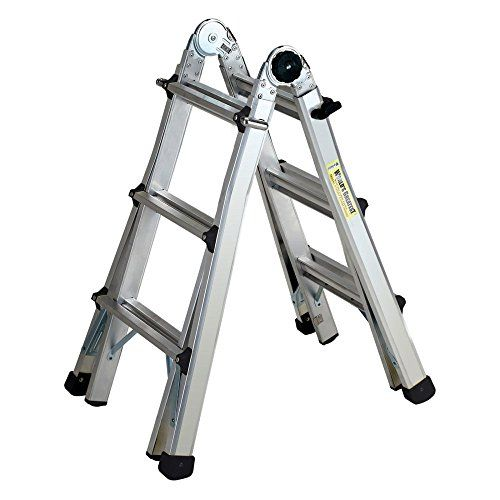 This is another great multipurpose ladder that can be adjusted into a 90-degree ladder, a scaffolding, and an extension. The ladder has a wide bottom and telescopic features meaning that it can be collapsed.
The telescopic feature allows the ladder to be collapsed on one side for use on sloppy or uneven grounds like stairwells. The feet of the ladder are made with rubber that holds the ladder firmly to the ground to prevent slips.
Cosco aluminium staircase ladder is lightweight and can be collapsed completely making it easy to carry around. It also takes minimal storage space.
4. Toprung ladder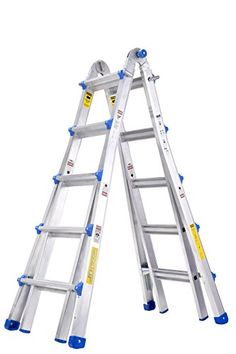 Toprung ladder is a multi-functional ladder that can be converted in 5 ways; stairway ladder, step ladder, wall ladder, 90-degree ladder and scaffolding. This 300-pound capacity ladder possesses features that make it one of the best ladders for your stairwell.
Made with high-quality aluminium, the ladder has wide legs for extra stability. It can also be extended between 4 to 7 feet to make it suitable for use on stairwells. Its feet are made of slip-resistant material to limit accidents while in use.
5. Little giant ladder 10121 skyscraper
This ladder is a multipurpose ladder with over 21 feet of reach capacity. It is a great ladder for use if you live in a home with high ceilings or need to work in places like a theatre or stadium.
even with its ability to reach far heights, it can hold up to 300-pound weight, thanks to its high-quality aluminium material. The ladder also has wide footing and antislip material for extra safety.
What is the best ladder for your stairwell?
Now that you know the tips to consider in choosing a stairwell ladder and some of the best options available, I know you are itching to hear which one of them ranks best. The simple truth is that there is no universal best ladder for your stairwell.
The usefulness of a ladder will depend strongly on the kind of stairs you have, the weight of the user, the height of the ceiling and the safety features that the ladder possesses.
If you have a higher ceiling and would like to reach higher, the little giant ladder 10121 skyscraper may be right for you. The flip-n-light step ladder with platform may be a better option for someone who is afraid of heights and looking for a ladder with a platform and protective rungs.
The choice, in the end, is yours but make sure you consider safety first when choosing a ladder for your stairwell so you don't end up in the emergency room.