A well-executed HVAC summer tune-up can make all the difference in maintaining a comfortable and energy-efficient home during the year's hottest months. Basic steps like clearing debris and inspecting unit panels, can keep your HVAC system in good working order throughout the summer!
Nothing makes a summer day more uncomfortable than a broken air conditioner. Everybody wants the ideal heat level in the winter and the perfect tranquility and chill in the summer.
As summer approaches, ensuring your HVAC system is in top-notch condition becomes paramount. If the heating system or air conditioning unit breaks down, you could go without it for a few days while you wait for a fix or a few weeks if it needs to be changed.
You can prevent this by doing an HVAC summer tune-up to improve your system's performance, extend its life, reduce energy bills, and get more comfort.
In this guide, we'll walk you through 17 crucial steps before the season hits full swing, from performing DIY checks and repairs, and hiring experts or technicians to considering upgrades to prepare your HVAC system for a stress-free summer of cooling.
17 THINGS YOU MUST DO BEFORE THE SEASON
1. CLEAN OR REPLACE AIR FILTERS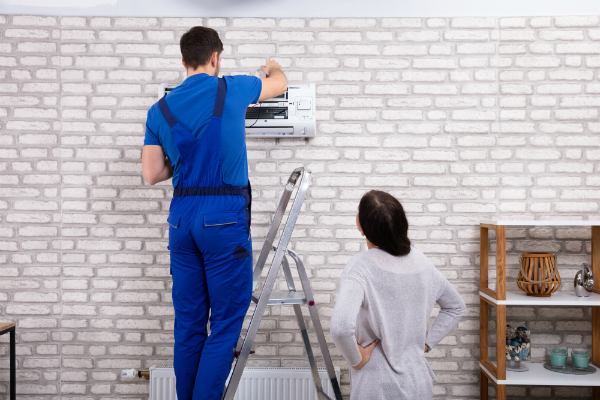 Before summer arrives, it is a good idea to check the filter to ensure that your air conditioner operates at its best. Air filters are crucial in maintaining indoor air quality and system efficiency. Clean or replace the air filters while carrying out your HVAC summer tune-up.
Filters remove dust, hair, and other airborne particles to stop the spread of dangerous pollutants throughout the home. As a result, when they become clogged, airflow is restricted, which makes the system work harder and uses more energy.
Now, Depending on your system type, you may need to change the filter once a month, once every six months, or once a year.
For the majority of the systems, filters with a MERV rating between seven and thirteen provide an excellent compromise between maximum airflow and filtration efficiency. When in doubt, follow the manufacturer's recommendation.
2. INSPECT ALL UNIT PANELS
In carrying out your HVAC summer tune-up, carefully inspect all the unit panels. Over time, these panels might get loose due to weather conditions or regular use. Secure any open panels to prevent vibrations and potential damage to the internal components.
3. CHECKING REFRIGERANT LINES AND AIRFLOW
The evaporator coil, which is close to the air handler, is connected to the outdoor condensing unit by copper coolant lines. Foam insulation is applied over and around these lines to protect them.
Checking to see if there are areas where this insulation is damaged or missing and replacing it with insulation sleeves or wrapping the lines with foam tape is one of the crucial HVAC summer tune-ups.
Also, Examine the refrigerant lines for any signs of leakage. Low refrigerant levels can impact cooling efficiency. You should ensure that no obstructions are blocking the airflow around the unit. Proper airflow is crucial for efficient operation.
4. CLEAR AWAY DEBRIS
Winter may have left dirt, twigs, leaves, and debris in your unit's exterior condenser or compressor. To remove these leaves and other debris stuck in the unit, use a hand vacuum, a strong degreaser, and a considerable amount of elbow grease.
To access the interior, you typically also need a screwdriver or tool. This promotes proper airflow, preventing the system from working harder than necessary.
During this time, you should also trim any vegetation within two feet of your unit. Although shrubs and other vegetation may not directly restrict airflow around your unit, they can nevertheless have an impact.
Outdoor units are prone to collecting debris such as leaves, twigs, and dirt. Clear away any debris around and within the unit. This promotes proper airflow, preventing the system from working harder than necessary.
5. PERFORM VISUAL INSPECTION OF THE HVAC SYSTEM
As you go on and about your HVAC summer tune-up, Inspect the system when changing the filter to uncover potential problems. Check out the thermostat, inside and outside the unit, registers, and returns.
In addition to that:
The thermostat's battery condition should be checked.
Confirm that the condensate system is draining properly
Make sure the cabinet door and filter access are shut tightly.
Check that the flue system is completely intact and attached firmly.
Check that all returns and registers are accessible and unblocked.
Examine each register for mold traces.
Ensure that the outdoor appliance is level. If necessary, use rot-proof shims to level it.
6. REPAIR OR REPLACE PIPE INSULATION
Inspect the insulation around the refrigerant pipes. Damaged or deteriorating insulation can lead to energy loss and reduced cooling efficiency. Replace or repair any damaged insulation to ensure optimal performance.
7. PREPARE TO MAXIMIZE COOLING POWER
Overuse is a frequent cause of air conditioner failure. High electricity expenses are another consequence of running your AC more frequently than necessary.
Fortunately, you can do several things to reduce your cooling requirements while performing an HVAC summer tune-up.
Consider shading the outdoor unit with plants or a shade cloth. This can help the unit work more effectively and efficiently by reducing its exposure to direct sunlight.
Additionally, seal any gaps or cracks in your home's windows and doors to prevent cool air from escaping; run the ceiling fan to create a wind-chill effect; and only make use of the oven, dishwasher, and clothes dryer during the cool hours of the day.
8. CHECK THE DRAINAGE LINE
When carrying out a DIY HVAC summer tune-up, examine the drainage line to ensure it's clear of any obstructions. A clogged drainage line can lead to water leaks and potential damage. Clear the line using water and bleach to prevent mold growth.
The pipe occasionally empties into the ground near your other unit, but typically, it ends in your basement at a utility sink or floor drain. Once you've found the drain line's termination, connect a vacuum hose to the gap.
Last but not least, run the vacuum for a few minutes to remove any possible mold or algae growth.
9. KEEP THE CARBON MONOXIDE DETECTOR ACTIVE
A carbon monoxide detector is a crucial safety equipment for homes with combustion-based heating systems like natural gas or fuel oil.
The alert could save your life in the event of an exhaust leak, poor ventilation, excessive gas flow, or other problems.
The typical working life of these gadgets is seven years. Regularly check the carbon monoxide detector to ensure it is in good working order, and replace it if necessary when performing your HVAC summer tune-up.
10. CLEAN THE OUTDOOR CONDENSING UNIT
Split-system air conditioner condensing units are placed on a concrete slab outside your home. To remove hot air from your house, a fan, and fins that serve as heat sinks are within this big metal box.
Due to its open location, the condensing unit is exposed to the elements. To ensure an effective heat exchange process, you should clean out any dirt and debris that has accumulated over time as part of your HVAC summer tune-up.
11. CLEAN THE EVAPORATOR COIL
The evaporator coil's efficiency is affected by the collection of dust and dirt. Find the evaporator coil door on your unit, then open it while removing any necessary screws or bolts.
To eliminate dirt buildup, gently clean the coil with a soft brush or compressed air. Next, spray the coil with a commercial coil cleaner—a clean evaporator coil guarantees effective heat exchange and improved cooling.
12. REGULATE YOUR HOME TEMPERATURE
Running your HVAC system at reasonable temperatures and minimizing its use while you are away from home or sleeping are all parts of performing an HVAC summer tune-up.
If you want to automatically control the temperature throughout the day, consider installing a programmable thermostat.
13. REPAIR OR REPLACE PIPE INSULATION
Inspect the insulation around the refrigerant pipes. Damaged or deteriorating insulation can lead to energy loss and reduced cooling efficiency.
Replacing or repairing any damaged insulation are HVAC summer tune-up measures to ensure optimal performance.
14. CHECKING PRESSURE LEVEL
Checking pressure levels against manufacturer standards is a crucial part of HVAC summer tune-up. Ideally, the same baseline pressures measured at the time of installation should be maintained.
Several pressures, including gas, refrigerant, exhaust, static, and air, may need to be checked during your HVAC summer tune-up and adjustments made where necessary.
15. SCHEDULING PROFESSIONAL HVAC MAINTENANCE
While DIY HVAC summer tune-up is valuable, scheduling a professional HVAC maintenance service is equally important. Professionals have the expertise to conduct a thorough inspection, identify potential issues, and fine-tune your system for optimal performance.
HVAC installation providers and experts will fully service, inspect, and troubleshoot the system during regular maintenance check ups to keep it operating effectively and avoid breakdowns. A technician in HVAC will check
The settings and calibration of the thermostat.
Electrical connection where necessary
Put lubricant on all moving parts.
Condensate drain should be inspected and cleaned as necessary.
Check the system controls
Clean and adjust the blower components
Clean the evaporator and condenser coils
Check the refrigerant charge.
16. TESTING YOUR HVAC SYSTEM
As part of your HVAC summer tune-up, run the system for a while to ensure it's cooling correctly. Monitor the temperature in different areas of your home to identify any inconsistencies. If you notice uneven cooling, it might be time for further inspection or repairs.
Running the air conditioner briefly before you make use of it during summer will help you avoid an inconvenient emergency failure and repair. How to change from heating to cooling is as follows:
Remove the cover if it is on the condensing unit.
Make sure the main breaker panel and the disconnect box have power.
Change the temperature setting from "heat" to "cool."
Set the thermostat a few degrees lower than what is felt inside. After letting the air conditioner run for a while, check the temperature and airflow coming from each register in your house.
Reverse the AC's operation if everything is operating normally. Make an appointment for air conditioning repair when you notice any weird noises, weak or lukewarm airflow, or other issues.
17. CONSIDERING UPGRADES FOR ENHANCED PERFORMANCE
If your HVAC system is aging or requires fixing, consider upgrading to a more energy-efficient model. Newer systems offer advanced features that significantly lower energy bills and provide better comfort.
As part of your HVAC summer tune-up, You should know it's time to replace your AC unit if you notice you are facing a high repair bill or if the unit barely made it through last summer and your energy costs are rising.
WHY YOU SHOULD CARRY OUT AN HVAC SUMMER TUNE-UP
Nothing is as important as having your home relaxed and comfortable during the summer than an air conditioner that delivers a constant flow of fresh and clean air.
You might take this equipment for granted, but the moment it breaks, you understand its importance. Here are some of the reasons you should get an HVAC summer tune-up
1. It Resets and Recalibrates Your Unit
Your air conditioner has already been busy doing its job of cooling your home cycle after cycle, as we previously said.
All that labor costs money and wears you out! If you're not attentive, minor alignment problems and other problems can develop into significant ones, and since the AC is usually running anyhow, these problems quickly deteriorate.
An HVAC summer tune-up will reset anything that has gotten knocked off-course. It will also help recalibrate its efficiency to ensure it lasts through the summer.
2. You Avoid Expensive Repairs
Another side effect of ignoring minor issues is that they can quickly become more severe and costly problems. If you don't take care of little things while they're still manageable, they can spread into major repairs before you know it.
Conclusion
A well-executed HVAC summer tune-up can save you from sweltering days and uncomfortable nights.
These 17 essential tasks ensure that your HVAC system operates at its best. Remember, a combination of DIY maintenance and professional service can also help to keep your system running smoothly.