The cost of bathroom remodelling in New York City for a half bathroom can cost between $7,500 to $27,000. In comparison, an entirely rip-and-replace remodel of a tiny full bathroom can cost between $18,000 and $74,000, depending on the quality of the supplies and materials used.
Contrary to popular belief, bathrooms have a long history. The first evidence of bathroom use dates back to 3000 B.C. However, bathrooms did not initially consider hygiene.
Water was seen as a purifying element for the body and the soul at this time and had a profound religious significance.
The value of bathing was eventually understood, and from the 16th through the 17th and 18th centuries, the usage of public baths steadily decreased, and private bathrooms were preferred. This laid the groundwork for the contemporary bathroom that would emerge in the 20th century.
Bathroom remodelling in New York has long begun since the early 20th century and fueled by the desire of homeowners wanting to improve the functionality and appearance of their bathroom.
There has been an increase in the widespread need for bathroom remodelling in New York.
Every day, people in New York, due to the fast-changing way of life, look for innovative patterns to make their bathrooms look more sophisticated and functional, with bathroom remodelling ranging from colourful paintings, new lighting, modern fixtures, better storage ideas, captivating tiling etc.
All of these raise the question, "What is the cost of bathroom remodelling in New York?
HOW MUCH IS THE COST OF BATHROOM REMODELLING IN NEW YORK?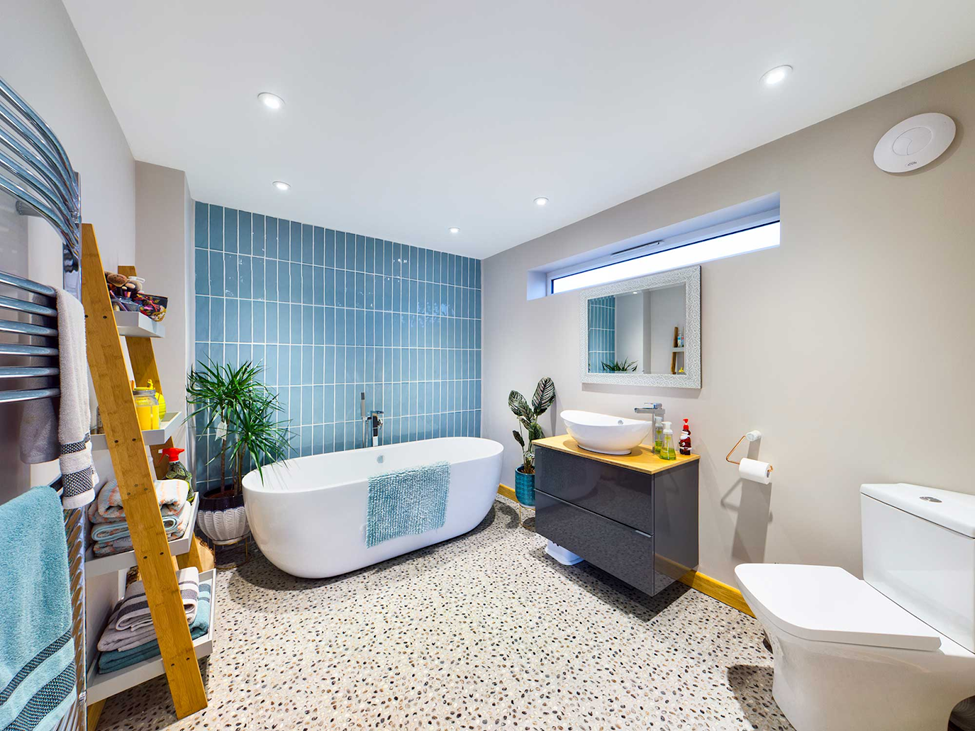 The cost of bathroom remodelling in New York is a project with never-ending variations as it can climb up even much higher than budgeted.
Studies conducted by the National Kitchen and Bath Association show that back in the year 2020, before inflation and shortage of labour, homeowners were already investing $20,000 to $30,000 into primary-bath redos.
Today, costs can amount to as much as $50,000, or even beyond, for those looking for grand and opulent designs.
The cost of remodelling a small bathroom in New York City can be between $7,500 to $27,000, while an entirely rip-and-replace remodel of a tiny full bathroom can range from $18,000 to $74,000, depending on the size of the space and quality of the supplies and materials used. The majority of New York bathroom remodelling falls into this latter class.
Homeowners must, however, include the project's costs in the budget. When you have decided how much you will spend, review the prices of the remodel you want and determine whether you need to make any cuts to get the project within your budgetary constraints.
Budgeting more than you think will help you prepare for unforeseen expenses, and is always a brilliant idea.
FACTORS THAT AFFECT THE COST OF BATHROOM REMODELLING IN NEW YORK?
The cost of bathroom remodelling in New York can be influenced by several decisions, such as why you want to do a remodelling, how long the project is going to take to determine if there will be a need to develop an alternative arrangement for a bathroom,
Other factors also include the size, extent of remodel, location, material used, current condition of the room, type of bathroom etc.
1. SIZE
The size of your bathroom is the primary factor affecting the remodelling cost in New York. It is primarily determined by the number of fixtures in it and the room's square footage.
This helps to determine both the layout and the style of the bathroom. The larger your bathroom, the more you will require remodelling, painting, and furniture replacement.
Every additional square inch will result in more surface area that needs to be tiled or repainted, which will cause an increase in cost amount.
Depending on the quality of the fixtures, the materials, and the labour, you can anticipate paying between $100 and $290 per square foot for a complete remodel. A partial remodelling usually costs less than $100, with most projects costing under $80.
2. LOCATION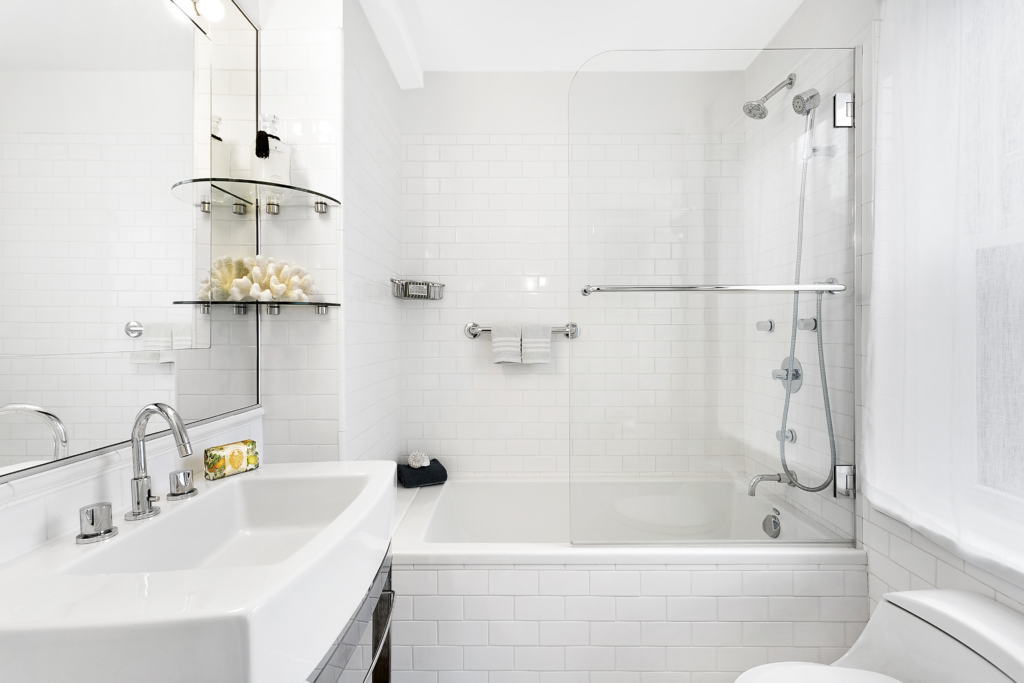 Individual geographic locations and differences in the cost of living in certain areas can significantly impact the cost of bathroom remodelling in New York.
The cost of your bathroom remodelling would match the real estate price. Therefore, expensive places of residence attract a larger budget and expenditure.
3. EXTENT OF REMODEL
Doing a partial remodelling will reduce cost compared to having a complete remodelling project which requires a large budget. The type and amount of work to be done determine which professional will be needed, impacting the labour cost.
Having a complete rip-and-replace remodelling, which involves replacing old fittings and finishes with new ones while still leaving the same layout as before, will incur more cost than a half bathroom makeover.
Just the same way a gut renovation which involves more architectural service and professional touch, permitting and licensed contractors will require an elaborate budget than the complete rip and replace remodelling.
4. TYPE OF MATERIAL
The cost of bathroom remodelling in New York City is also dependent on the choice of materials used. For tiles, you can choose between porcelain or ceramic; for faucets, chrome, brass, or stainless steel; for cabinets, wood or PVC.
A bathroom's price and longevity will be impacted by your chosen material, as more expensive high-end materials are less likely to be replaced after a short period.
5. COST OF LABOUR
The cost of labour plays a vital role in the entire renovation process. Bathroom remodelling features a large number of contractor characters who offer different services as well as experience levels, ranging from the designer to the building permit expediter, demolition contractor, carpenter, plumber, electrician, tile setter, drywaller, and painter, all of which influences the cost of bathroom remodelling in New York.
However, hiring these pros ensures that your project is safely carried out and can help even tailor and keep the project on budget. When planning, it is advised that you carefully consider all the factors listed above.
6. CURRENT CONDITION OF THE ROOM
Every bathroom contains a substantial amount of plumbing and electrical hidden behind walls in damp areas, making it possible for unexpected corrosion or failure to go undiscovered.
Budgeting between $80 to $1,000 for each projected electrical or plumbing component is advised for remodelers.
Changing your remodelling plans while in the middle of the project is a costly decision as it will require the purchase of new supplies, coupled with the stress of returning the old ones.
The worst-case scenario is that you'll need to engage a remodeler to replace previously finished work, leading to an extended time to finish the job.
HOW A BATHROOM REMODEL AFFECTS THE VALUE OF HOME
The National Association of Realtors (NAR) 2019 Remodelling Impact Report states that more than 25% of Realtors recommend remodelling bathrooms before placing a home up for sale.
Renovations are an excellent opportunity to invest in your house, even if you don't plan to sell. Of the most appealing projects to buyers, renovated bathrooms are likely to sell quickly and add value to a home up for sale.
Regardless of the cost of bathroom remodelling in New York, many homeowners work to renovate their bathrooms because, apart from giving them a refreshing and appealing sight, a bathroom makeover could add between 4-5% to the value of your home. And, of course, this varies depending on your design and build.
According to the National Association of Realtors (NAR) reports, remodelling bathrooms comes with a joy score of 9.6 out of 10 for homeowners who hire professionals to do the remodelling job and those who undertake the project independently.
They also rank highly in terms of how they affect the total worth of a house. Homeowners can recover about 60% to 70% of their initial investment.
You can also get fantastic returns by installing a new bathroom, ranging from 80% to 130%. Converting unused rooms, closets, stairwell spaces, and other areas are sure ways to make room for a new bathroom.
IS IT BEST TO REMODEL YOUR BATHROOM YOURSELF?
With the rise in the cost of bathroom remodelling in New York, some homeowners try to do it themselves. Well, yes, you can! You can save some money if you have the knowledge, ability, and time to do specific tasks such as painting, making minor plumbing adjustments, removing an old vanity, and fitting in a new one yourself.
In addition to doing simple jobs, it is advisable always to hire professionals when doing extensive bathroom remodelling to prevent potential harm, delays, costly mistakes and overruns.
CONCLUSION
A beautiful new bathroom offers joy and comfort at the same time, and many homeowners could use both. It's critical to plan and budget for products and services of the best value and to find professionals who can deliver with expertise and minimum disruption.
Also, regardless of the cost of bathroom remodelling in New York, making a careful budget and comparing prices provides a possible way to achieve a successful renovation within a reasonable budget.